Women in the Sedgwick Museum Archive
Being Seen and Heard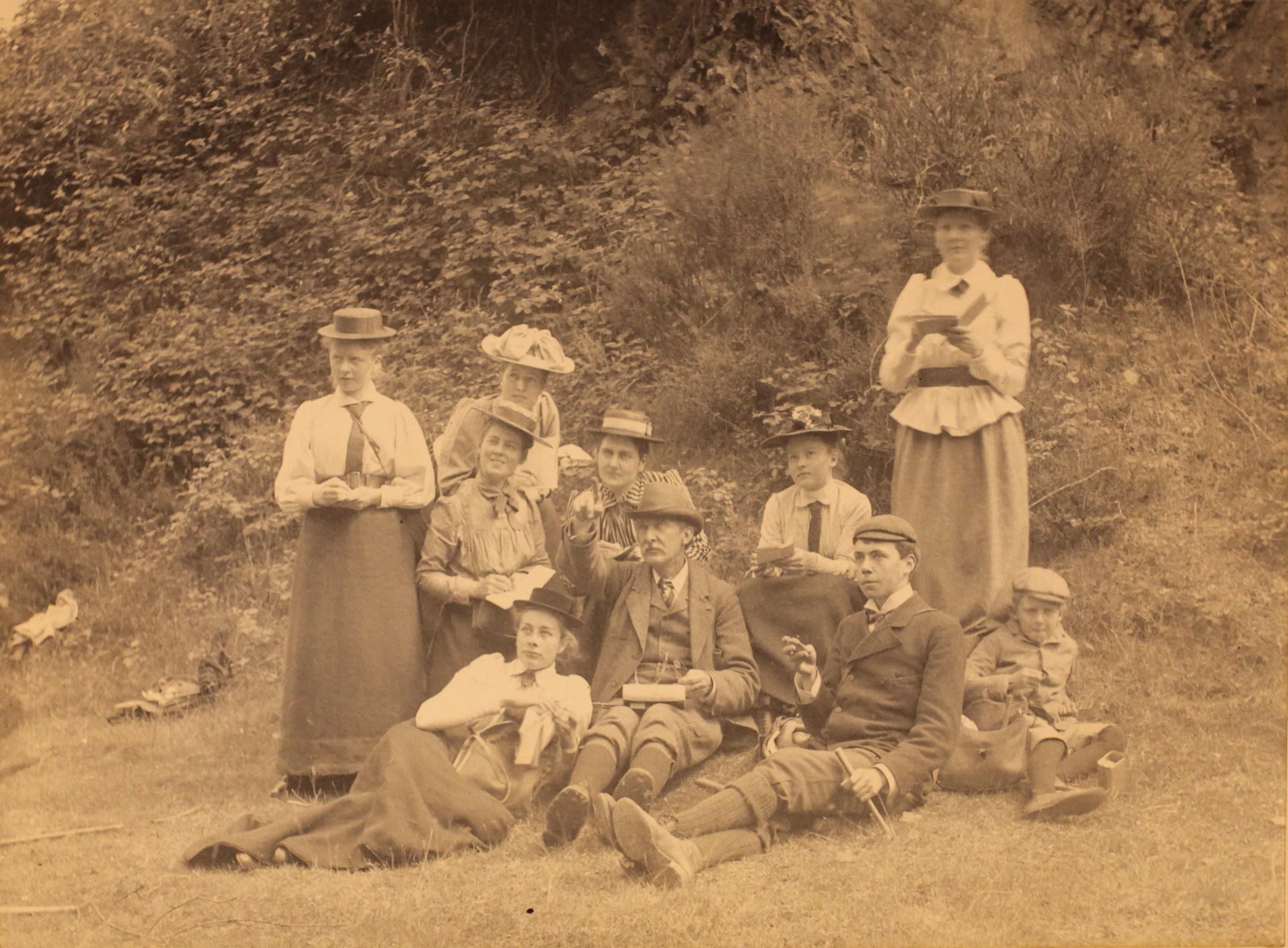 'Section Drawing, Quarry East of White Leaved Oak' Malverns 1892. (ref. SGWC 02/02/10)
'Section Drawing, Quarry East of White Leaved Oak' Malverns 1892. (ref. SGWC 02/02/10)
---
In this exhibition we take a look at the Sedgwick Museum archive from a different narrative.
We will look at how the archive documents women's experience of studying geology in the late nineteenth century, until the First World War.
We hope that some of these stories will inspire further research. Please contact the Museum if you have any questions.
---
In the Sedgwick Museum archive, women are 'seen' and 'heard'. They are depicted in photographs and sketches. Their activities are documented in expedition scrapbooks. Their attendance at meetings and details of talks are recorded in minute books.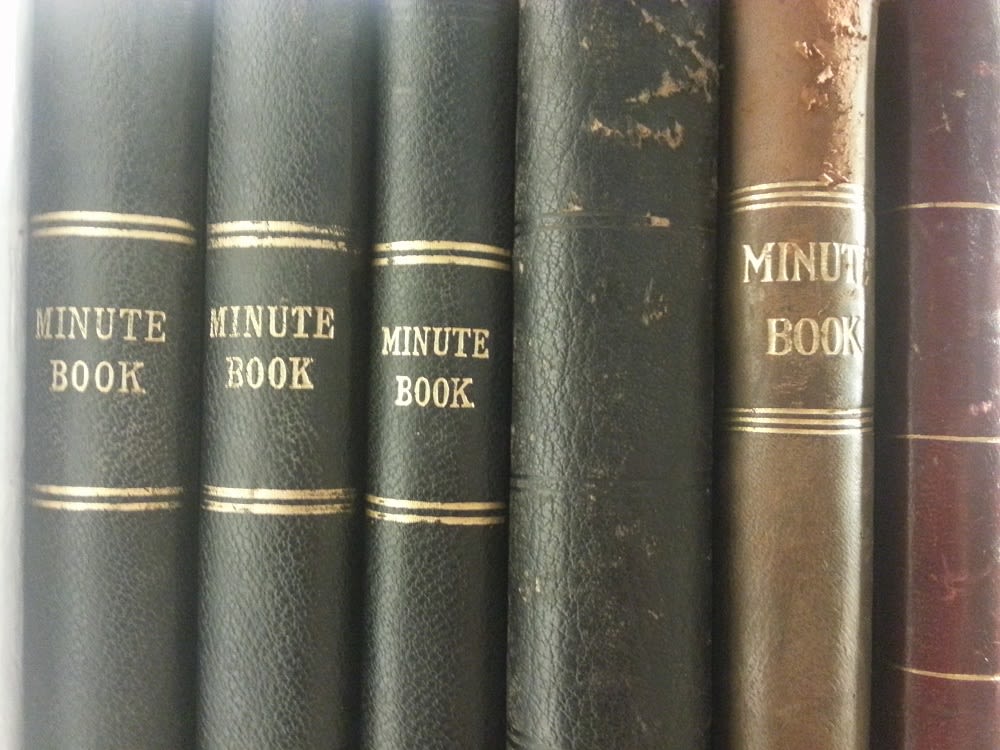 Female students wrote Museum specimen catalogues and donated thousands of objects to the collections. Some of these are on display but many more remain in the stores.
---
The learning environment of the 1800s was restricted for women and they were by and large 'consumers not producers of science'.
By the 1870s the situation was changing with increased access to education for women. This played an important role in furthering the position of women within the geological community.
Chronology of key events in Cambridge:
1864 Cambridge University Open Exam opened to women.
1869 College for Women in Hitchin opens (later relocated to Girton).
1870 Lectures for women in Cambridge begin.
1879 Newnham Labs open for women's use.
1883 Cavendish Labs in Cambridge are opened to women.
1884 Balfour Laboratories open for women.
1873 Girton College opens.
1881 Women are allowed to take Tripos examinations and offered certificates.
1897 University circular for Womens' admission to degrees - proposals defeated.
1904-1907 Students travel to Dublin to obtain their degrees ('Steamboat Ladies').
1918 Women over 30 get the vote.
At Cambridge women were present on geological field trips from approximately the 1880s. This was due in part to the influence and encouragement of Professor Thomas McKenny Hughes, his wife Mary Caroline Hughes, and Dr John Edward Marr.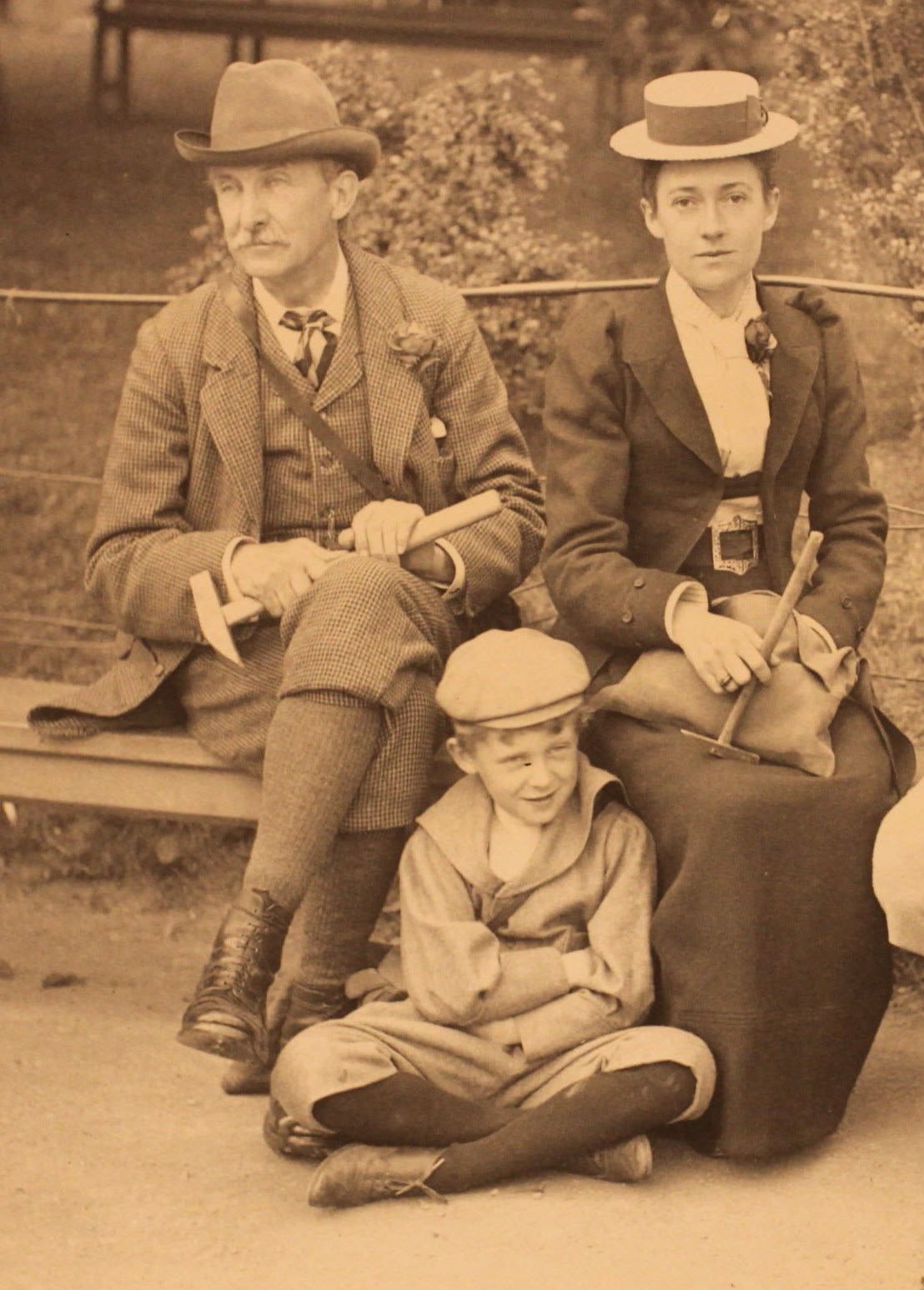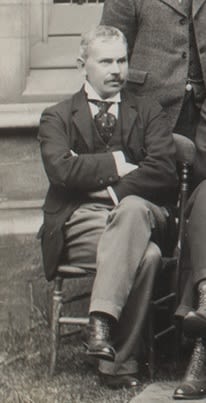 ---
'The Professor is determined to make each girl do her best, and is determined not to allow of shirking, scamping, inattention, idleness in any possible form''A Pleasure Party' The Queen, The Lady's newspaper, August 1890
---
The principal of Newnham College, Eleanor Sidgwick wrote to Professor Hughes in October 1892 asking him a series of questions about teaching mixed classes. She had been asked to collect information as an 'effort is being made to get the classes of Trinity College, Dublin open to women'. She was aware that the geological excursions Professor Hughes led often included men and women.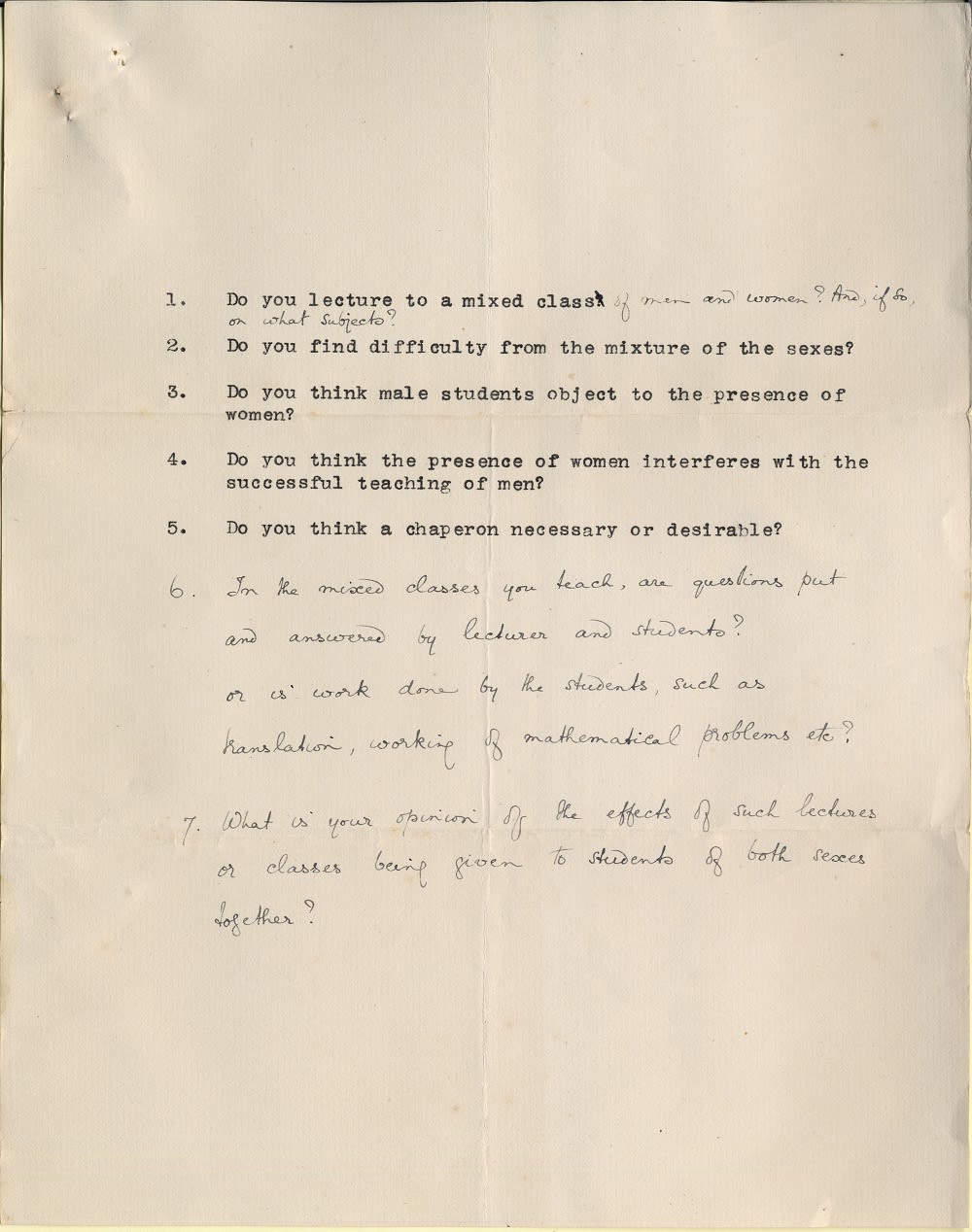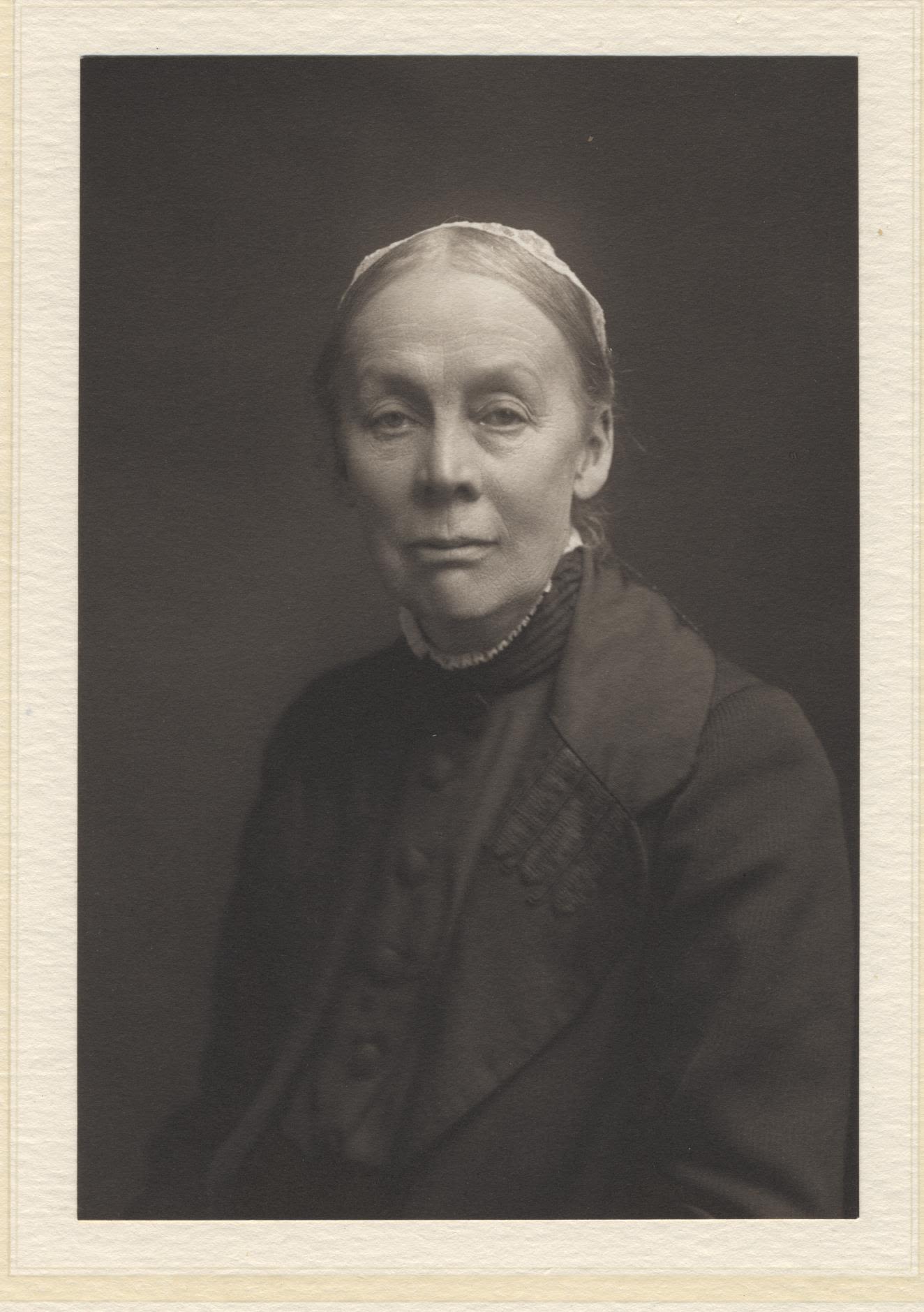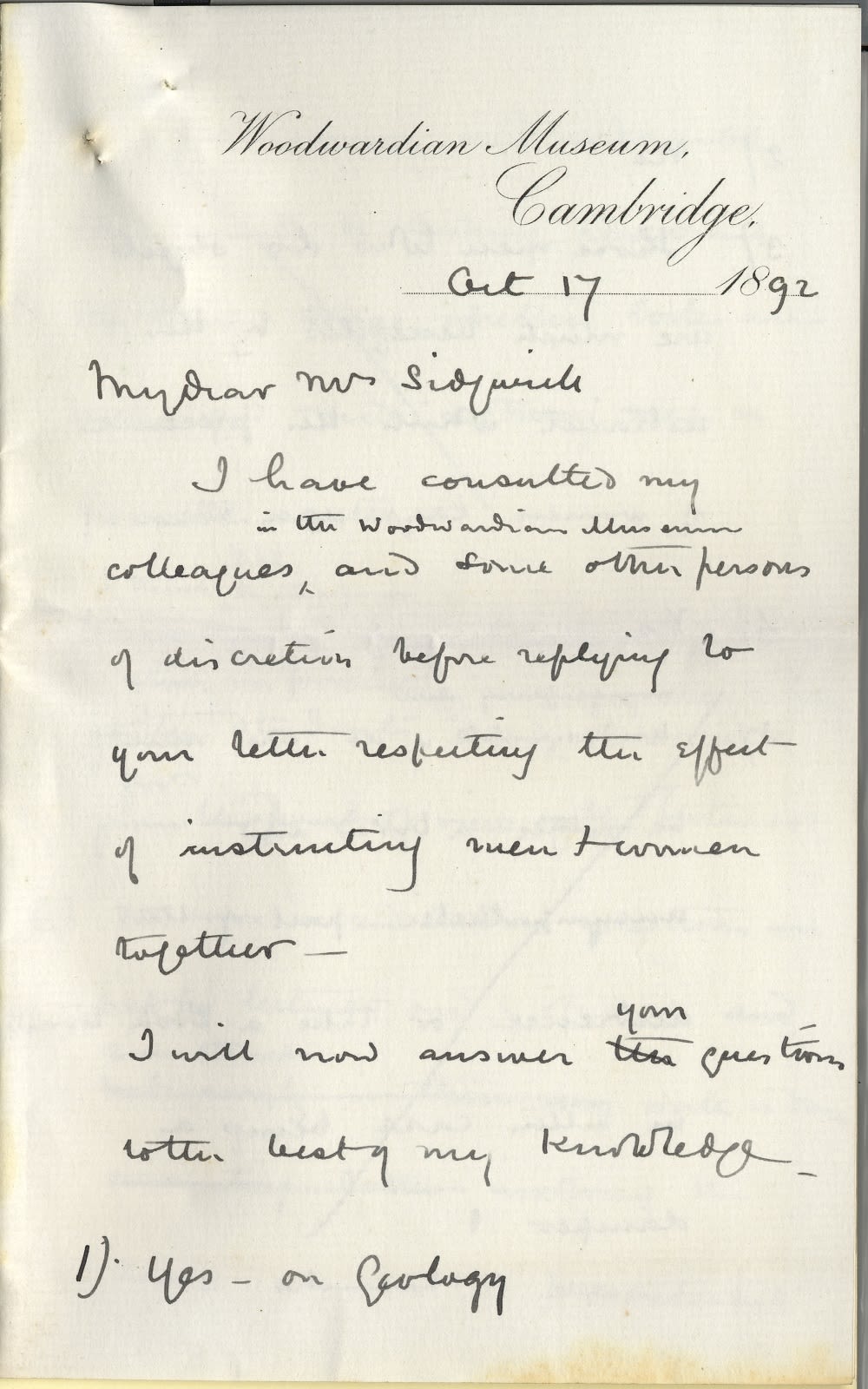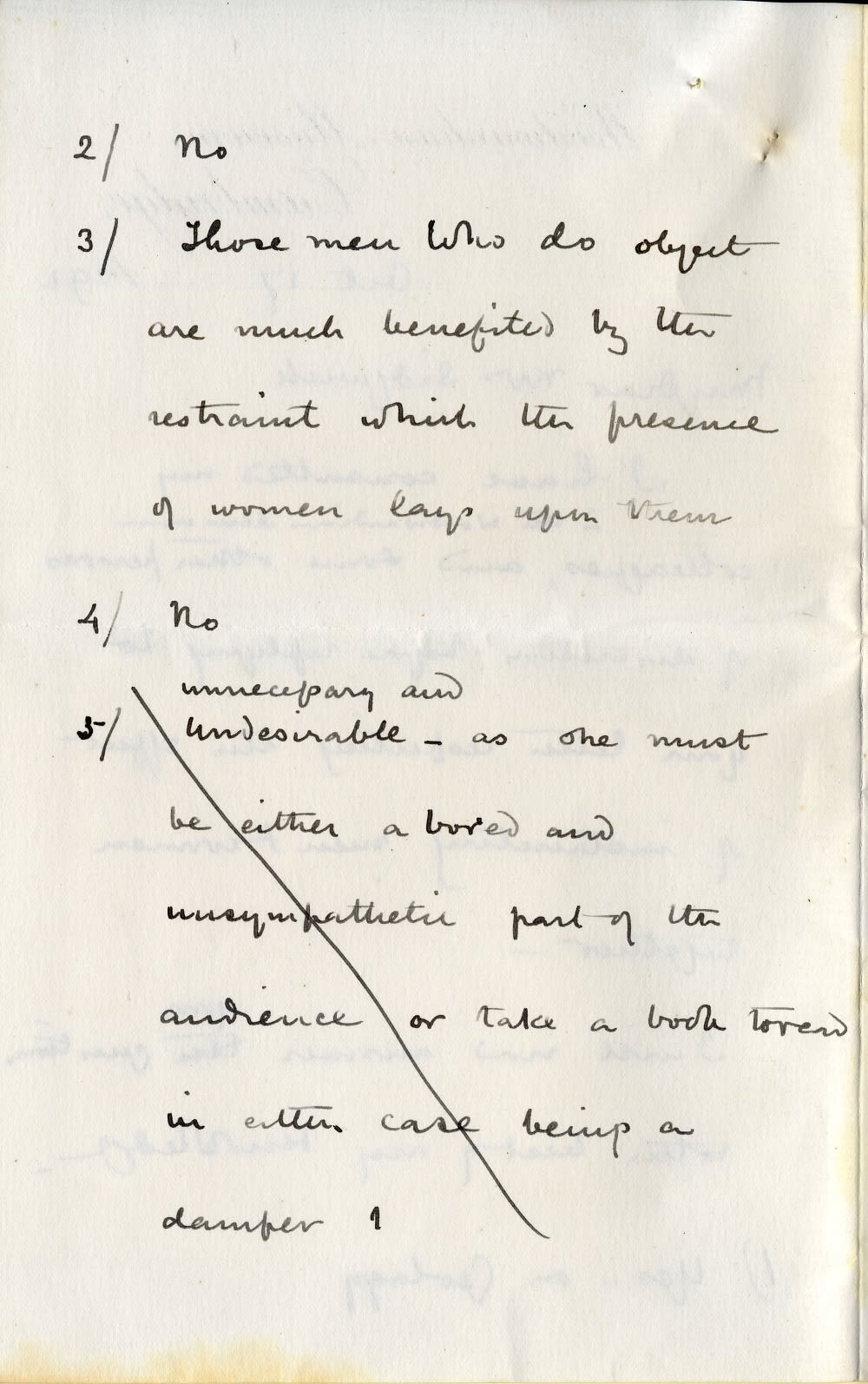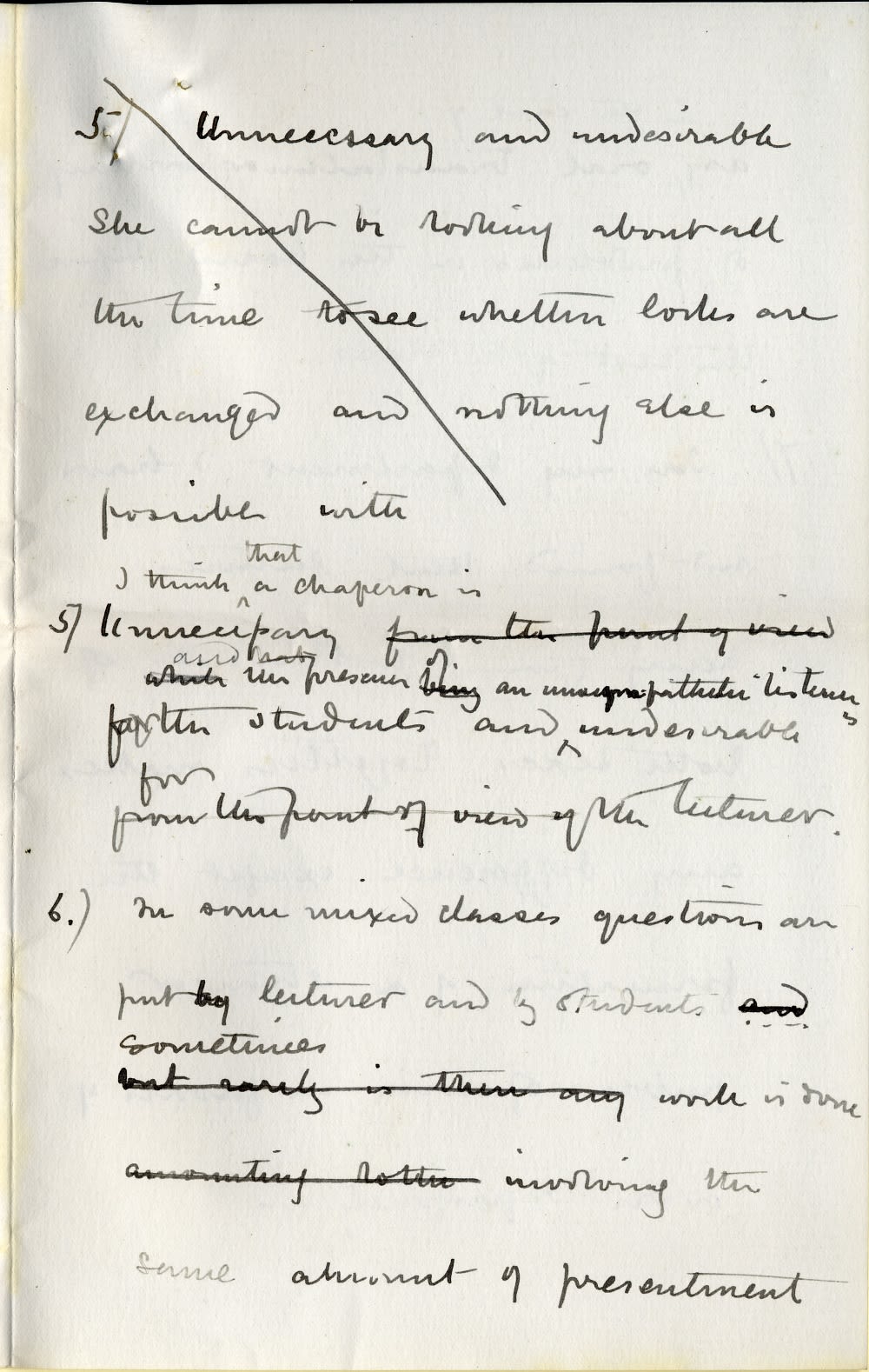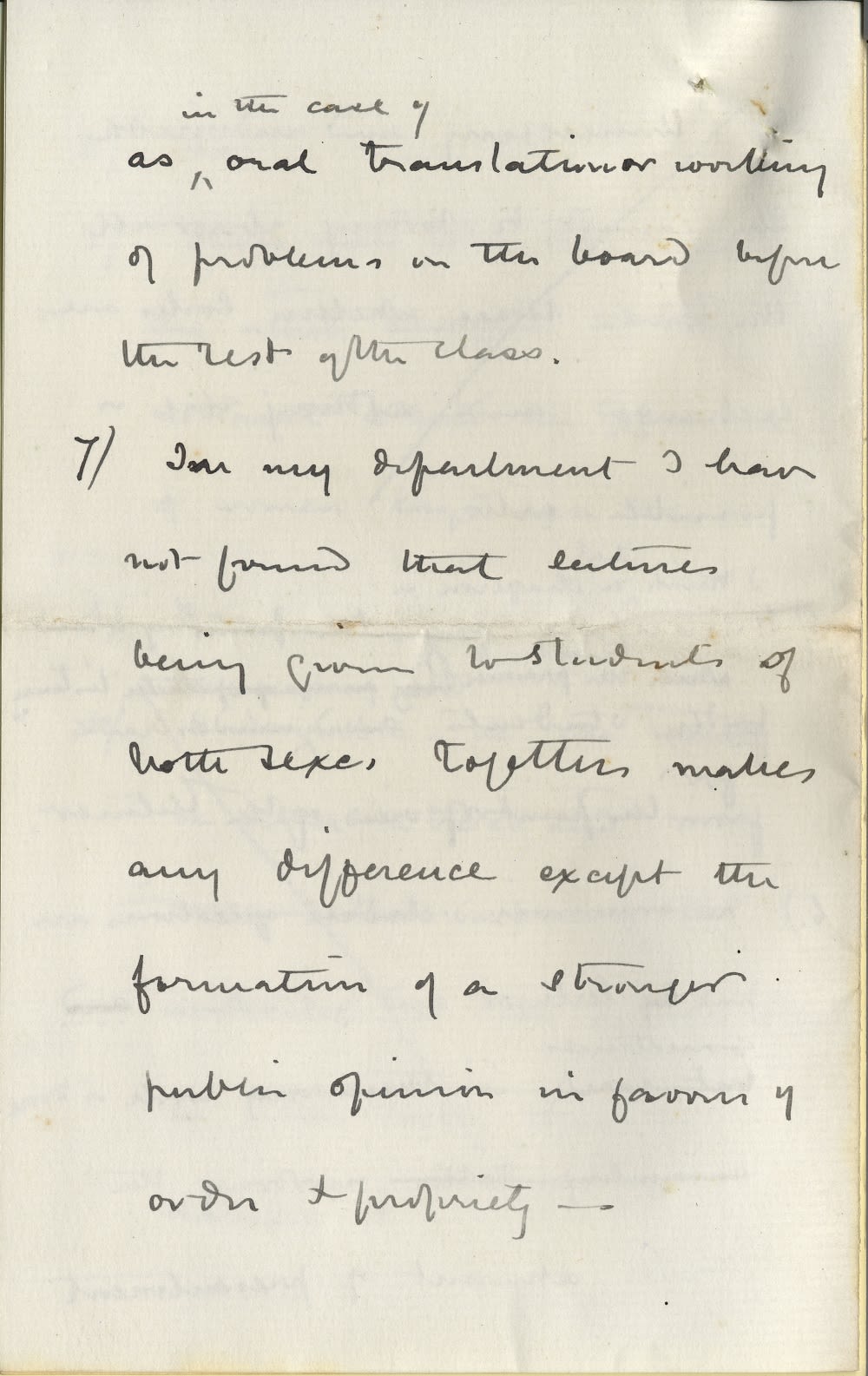 In response to the question 'do you think the presence of women interferes with the successful teaching of men' the Professor simply replied 'no'.
Fieldwork facilitated interaction between men and women during a time when this was still very rare. 
This photograph depicts students during an excursion to Wales in 1885. It was taken 11 years before women were officially permitted to become members of the Sedgwick Club.
Four women were present on the trip, and apart from Mary Hughes, they all became teachers. There were few other acceptable options for employment before marriage at that time.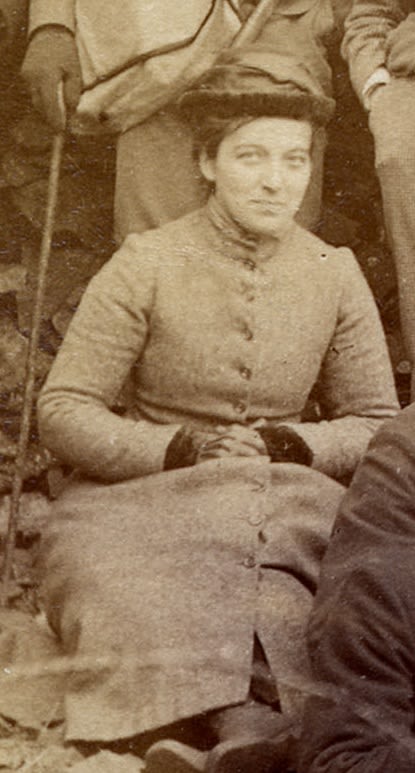 Ellen Stones (1855-1953) was an Assistant Mistress at private schools in Reading, Carmarthen, Dulwich, and Chichester. She also worked for the Missionary Settlement for University Women, Bombay 1895-1903.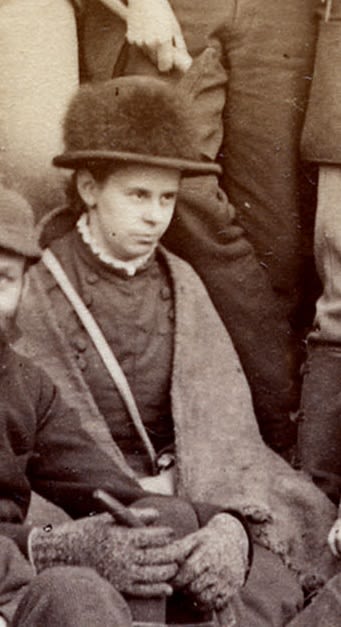 Beatrice Taylor (1863–1934) became an Assistant Mistress in Oxford and London, and a visiting teacher of science in Southport.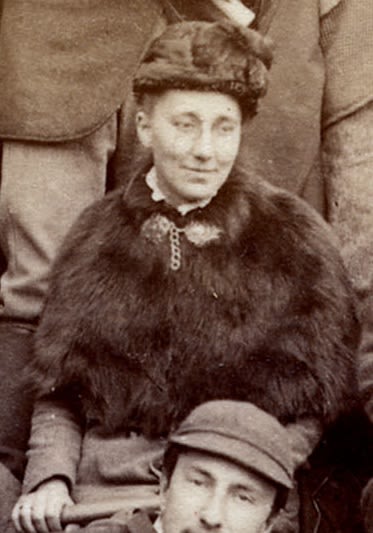 Anny Mary Adams (1851–1931) became an Assistant Mistress at Plymouth High School and was on the Chiswick School Board from 1896 until 1926.

---
Other roles that women took on before the 1880s, in the field of geology included:
Artists & illustrators
Collectors and commercial sellers - including Mary Anning (1799–1847)
Translators
Writers and editors
Museum curators and owners
Research Assistants
Spotlight: Mary Caroline Hughes (1863-1916)
Mary Caroline Weston was born at Crosby Ravensworth, the daughter of the Reverend G.F Weston and his second wife, Caroline James, the daughter of W.James, MP for Carlise.
In 1882 University rules were changed to allow fellows to marry. Mary married the 8th Woodwardian Professor, Thomas McKenny Hughes in 1883.
Mary's presence on excursions ensured other women could attend and benefit from the 'fell side rambles and mountaineering expeditions' of the Professor. She 'companioned as well as chaperoned' young female graduates, a necessity during the time. However, by 1892 her husband had written that this was 'unnecessary and undesirable'.
---
'.....she took up stone after stone of the important "Dover Collection", and pointed out the different stages of development and condition through which it had passed the one same creature as time had come and gone, and changed has been needed for its preservation and development' 'A Pleasure Party' The Queen, The Lady's newspaper, August 1890
---
Hughes published 'On the Mollusca of the Pleistocene Gravels in the Neighbourhood of Cambridge' in 1888.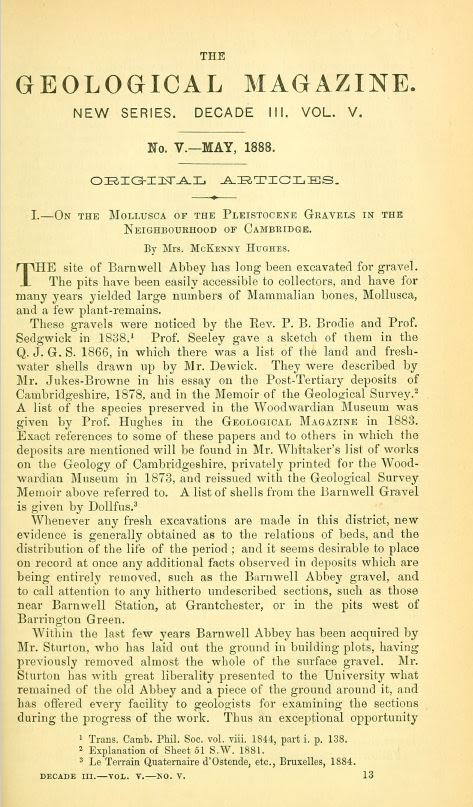 In 1909 in collaboration with her husband, she compiled the volume on Cambridgeshire in the County Geography series. Many of her own photographs illustrated this work, and a sketch made by her father was also included.
---
Mary Hughes attended several IGC (International Geological Congress) meetings with her husband. She visited Berlin, Zurich, Russia, and Washington, writing diaries and taking photographs.
---
'..one felt at if ones backbone must be in the same condition as that of some of the ichthyosauri in our own museum' Mary Hughes describing the journey to Berlin for the IGC Meeting, 1885.
---
Her vivid accounts often include sketches, photographs, and herbaria.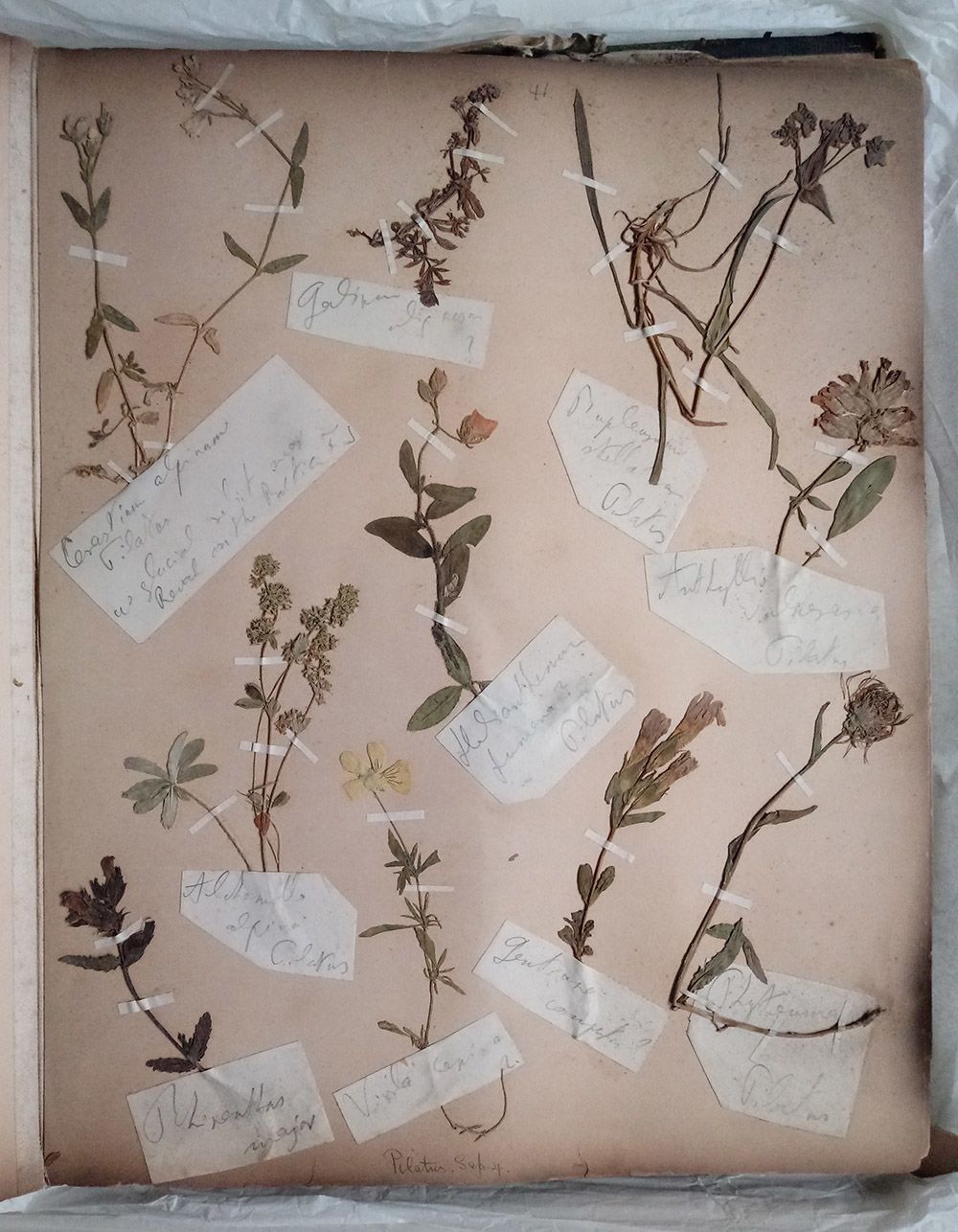 ---
Mary and Thomas had three sons, one of whom was killed on active service during the First World War. She died in 1916.
---
The Geological Society of London was founded on 13th November 1807. However, it was not until 21st May 1919, that the first female Fellows were elected.
A Cambridge University geological excursion to the Malverns in 1892 included some of the women who would become the first female fellows. These were Gertrude Elles, Margaret Crossfield, Ethel Skeat (all elected in May 1919) and Ethel Wood (elected in 1920).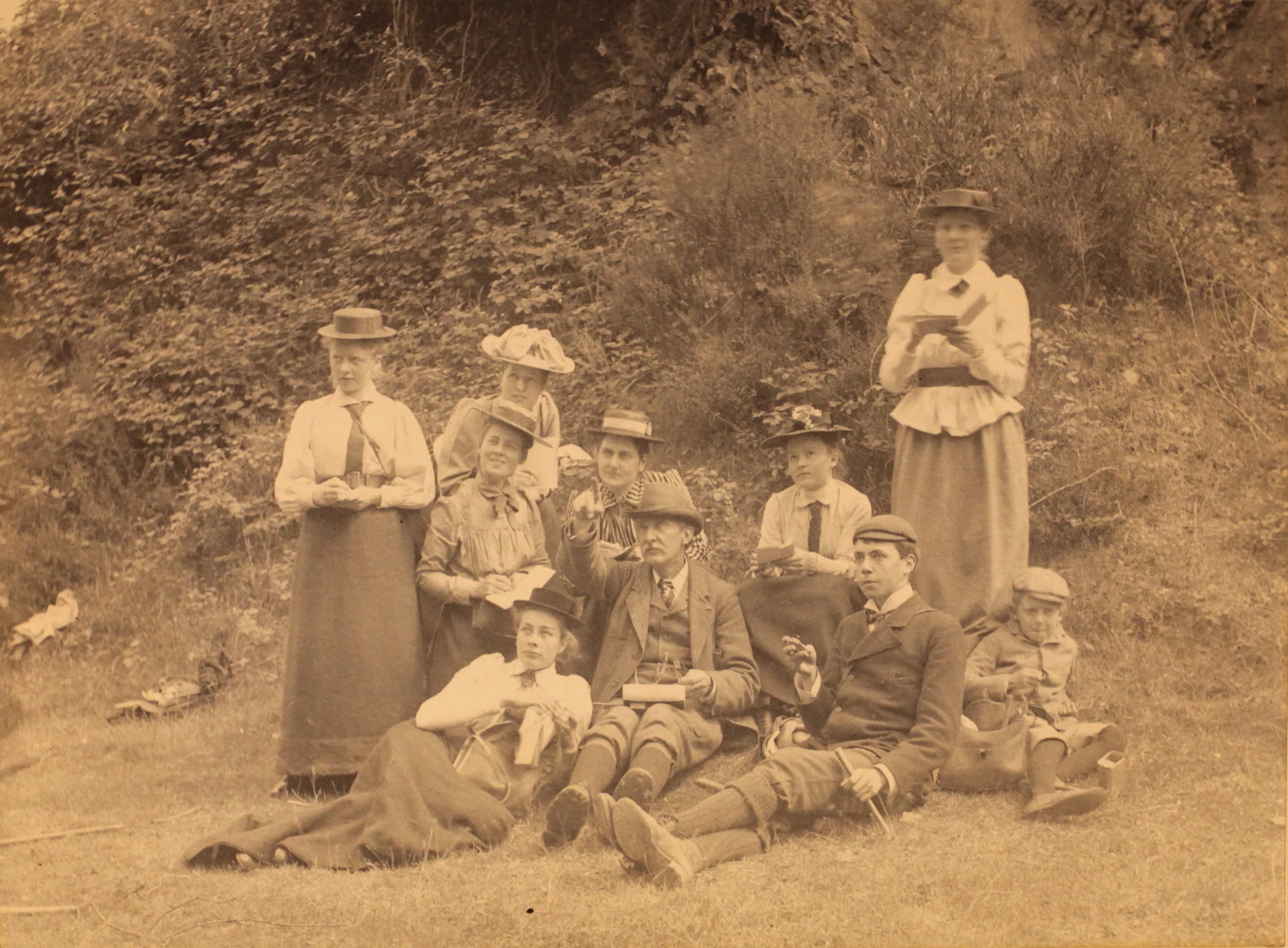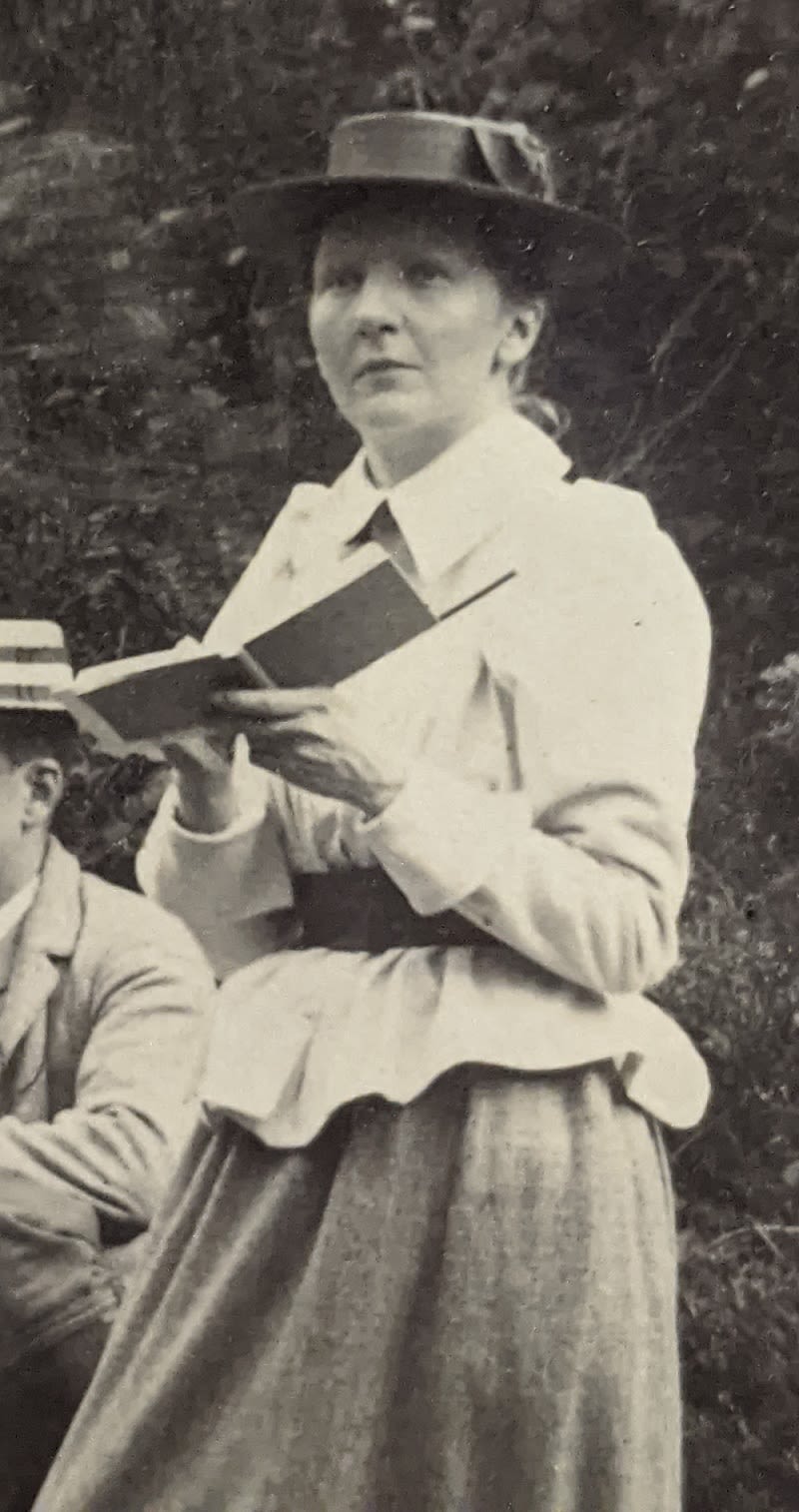 Margaret Chorley Crossfield (1859-1952) returned to studies in 1889 after ill health and was given permission to only study geology. She later worked with Ethel Skeat on Carmarthen stratigraphy & Silurian rocks of Clwydian, and Mary Johnston on Wenlock limestone of Shropshire.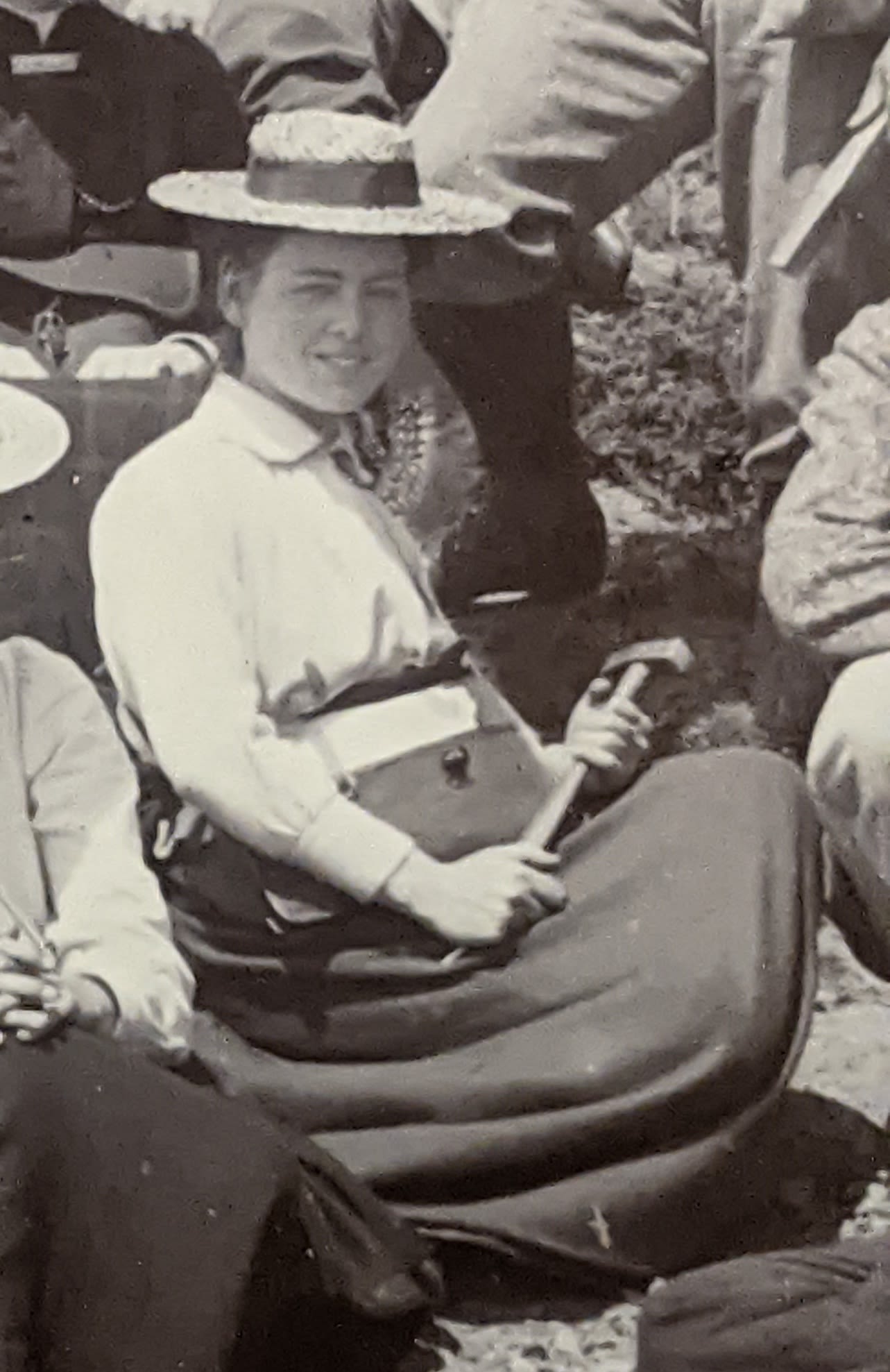 Ethel Gertrude Skeat (1865-1939) was the third daughter of Professor William Walter Skeat, a Philologist. She worked with Margaret Crossfield during her career. After marrying Henry Woods in 1911 she became a lecturer at the Cambridge Training College for Women. She is buried at the Ascension Parish Burial Ground in Cambridge.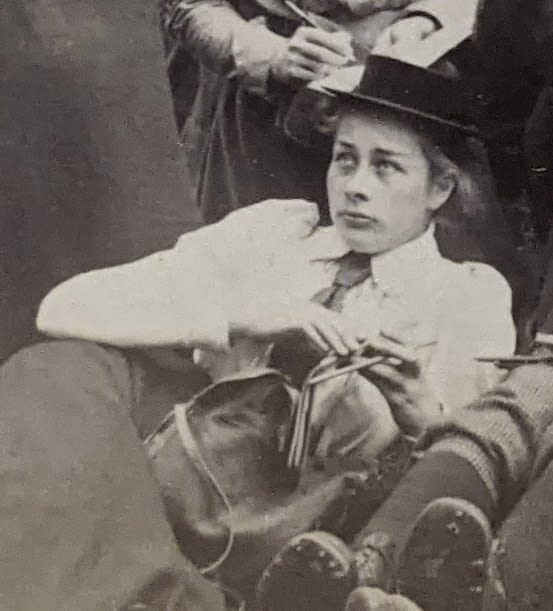 Ethel Wood (1871-1946) became a research assistant to Professor Charles Lapworth at Mason College, Birmingham. She began working with Elles on the Monograph 'British Graptolites' (1901-1918), preparing the illustrations whilst Elles wrote the text. The outbreak of the First World War all but put a permanent halt to her promising career in geology.
She helped found and became honorary secretary of the Association of Pension Committees and served on the War pension committees of Birmingham and Sutton Coldfield.  She also sat on the Special Grants Committee of the Ministry of Pensions between 1917 and 1926, a service that was recognised with an MBE in 1918 and a DBE in 1920.
---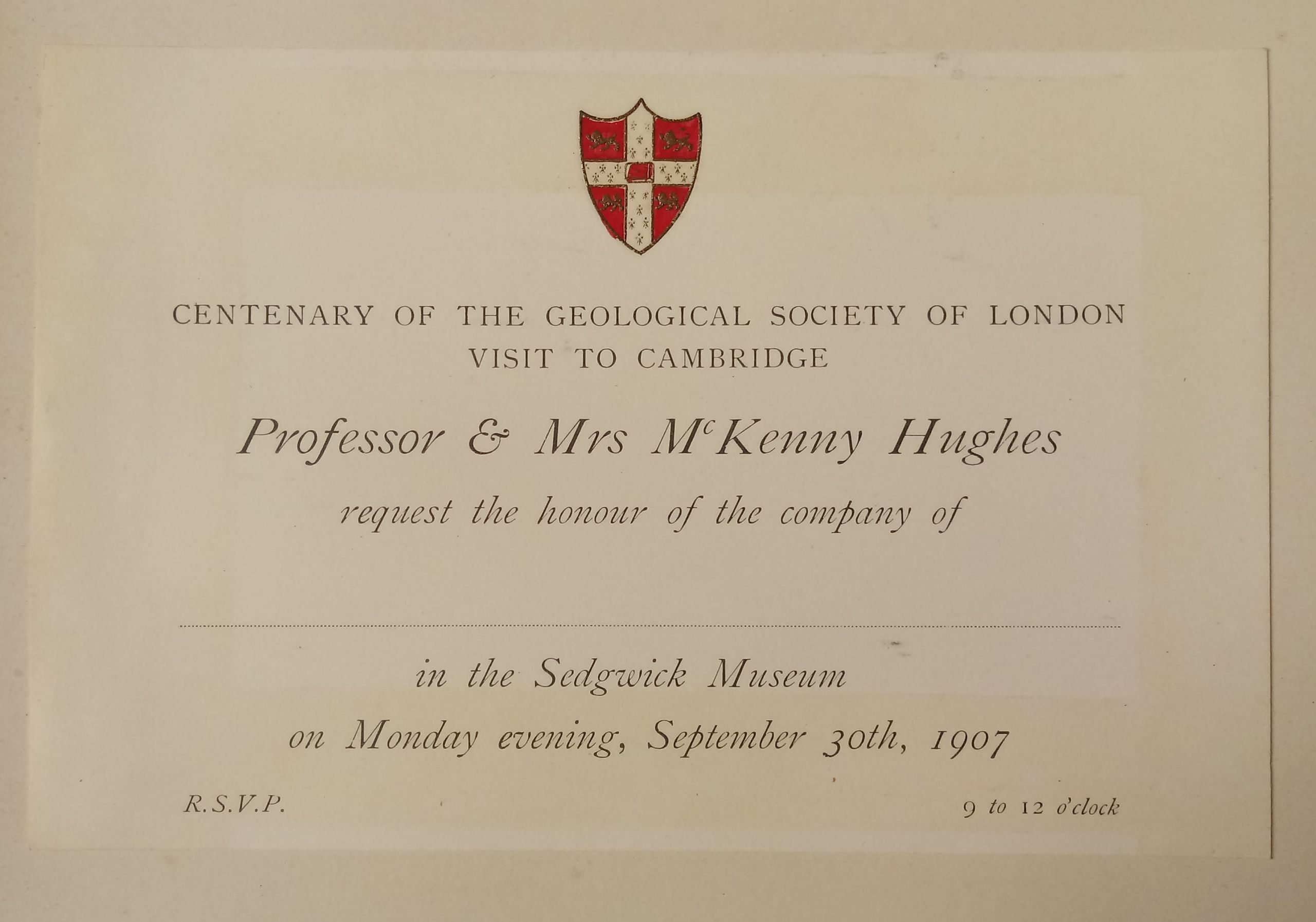 The Geological Society centenary in 1907 included 34 women amongst its 263 guests. 20 were wives or daughters of academics, and nine were there in their own right (Catherine Raisin, Mary K Andrews, Gertrude Elles, Ethel Wood, Margaret Crossfield, Dorothea Bate, Ida Slater, Maud Healey, and Enid Goodyear).
A visit to Cambridge took place as part of the celebrations, and a meal was held in St John's College on Tuesday 1st October 1907. The seating plan, in the Archive, suggests that no women were present.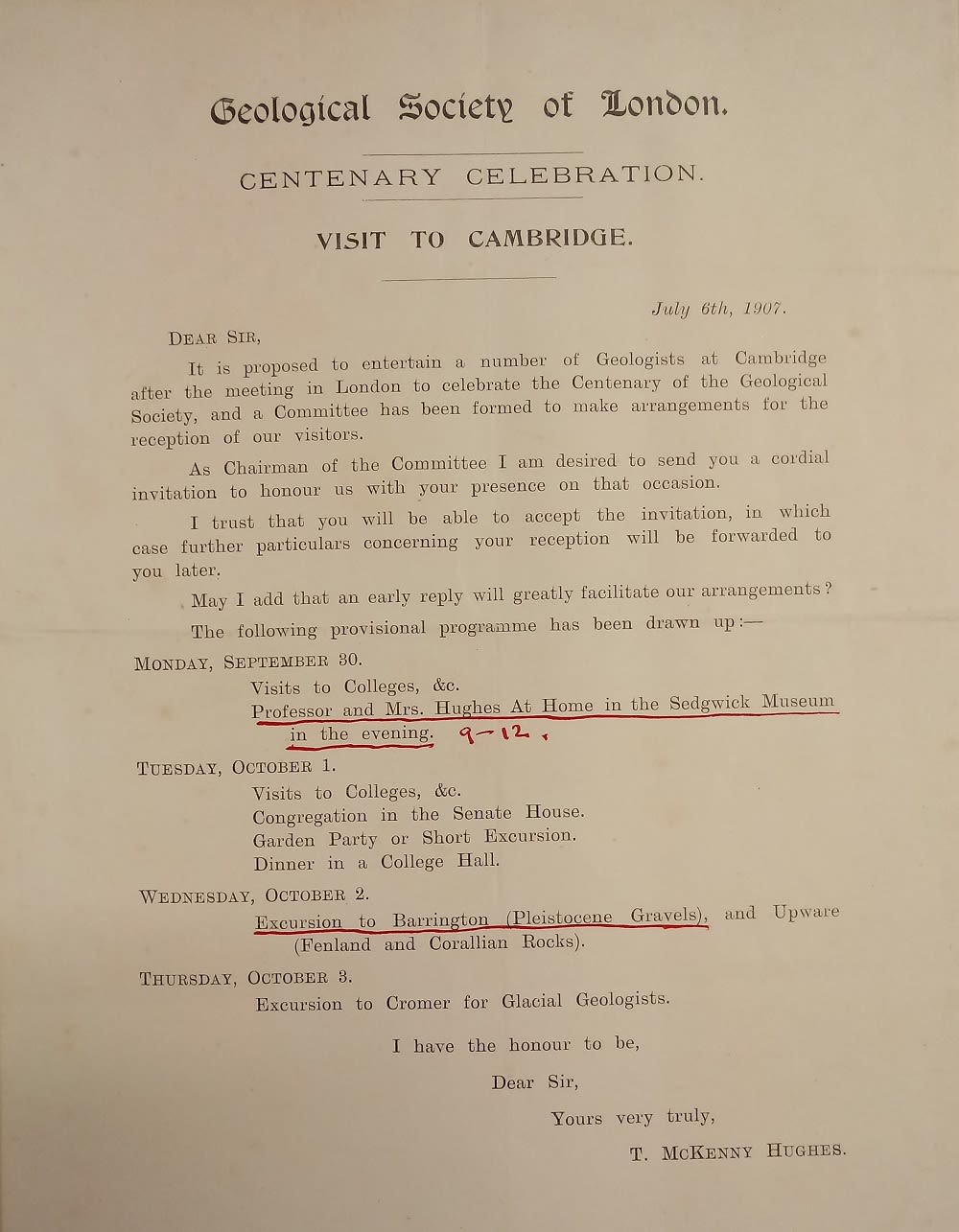 ---
In 2019 a conference took place at the Geological Society to celebrate 100 years since Women became fellows.
You can read about the conference in the 'History of Geology Group' (HOGG) newsletter (number 66) here.
For more information about female fellows of the Geological Society, you can visit an online exhibition here.
---
The Sedgwick Club, founded in 1880, is the oldest student geological club in the world. Its first president was Albert Charles Seward, a British botanist and geologist.
The Archive includes minute books, scrapbooks, typescripts of talks, financial records, and photographs.
At the first meeting on Saturday 13th March 1880 in rooms at St John's College, it was resolved that a club should be formed, and that -
'the object of the club be to promote the study of geology by the reading and discussion of papers thereof'.
However, it would be 16 years before women were admitted, in January 1896 when a special meeting was called.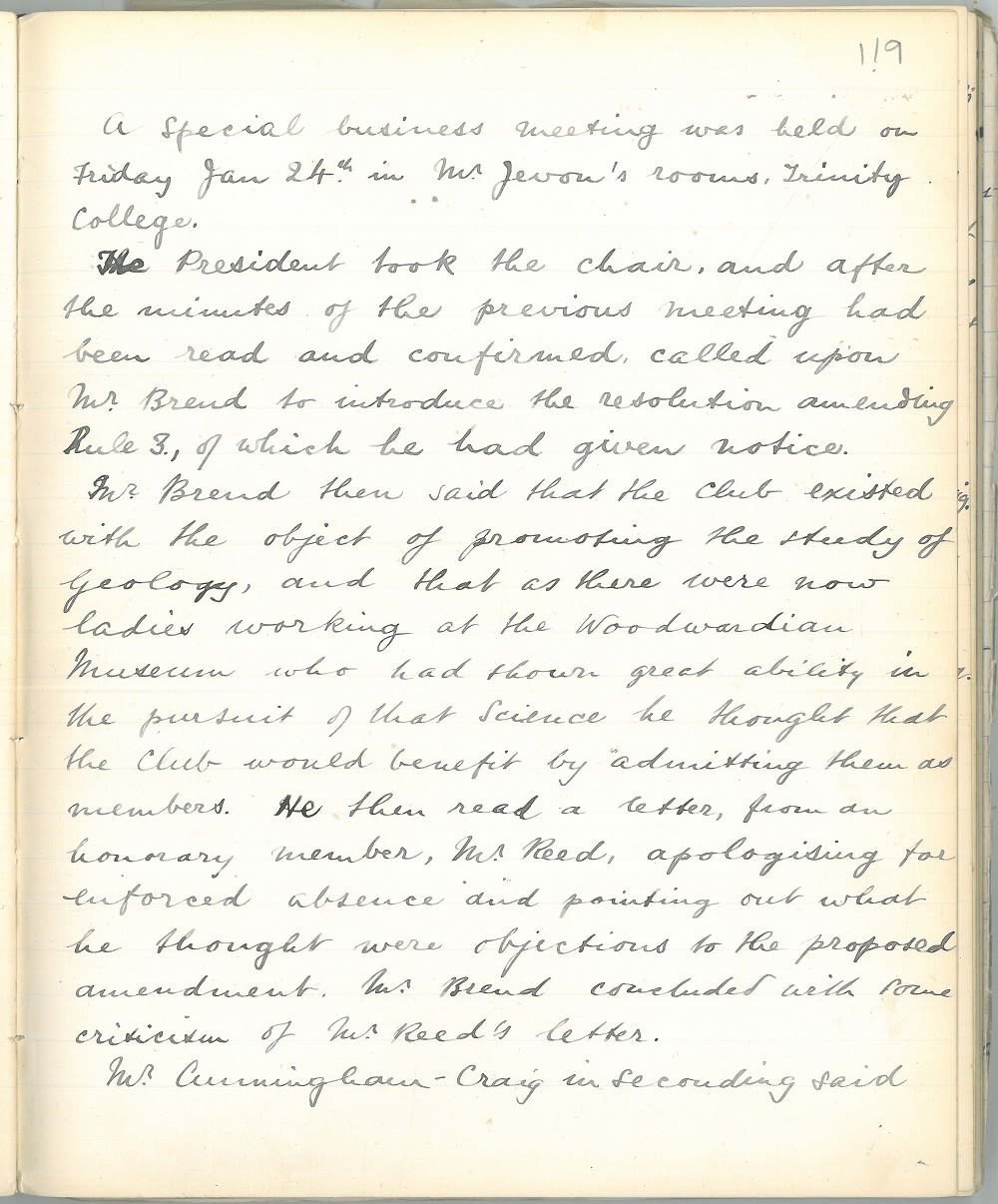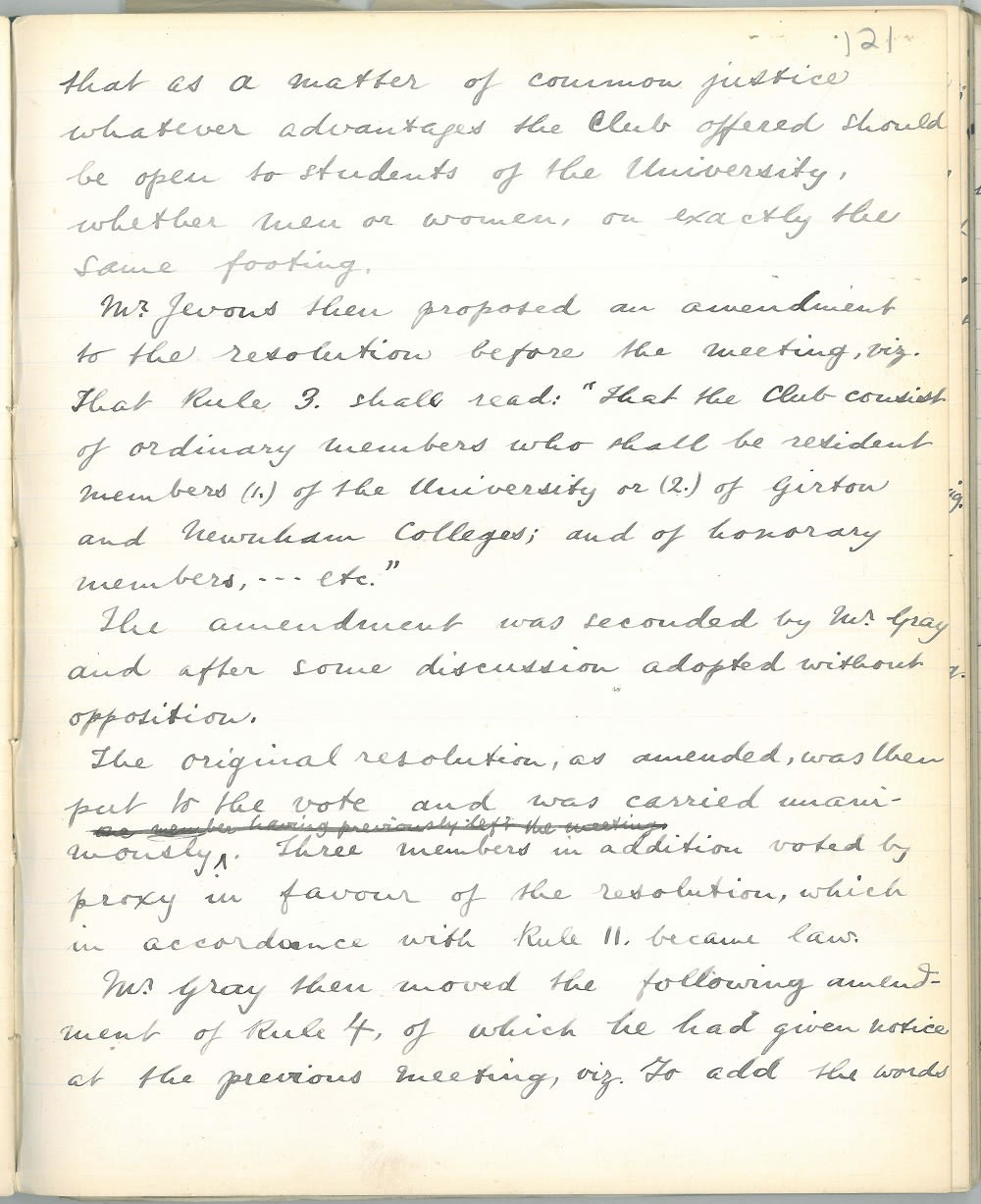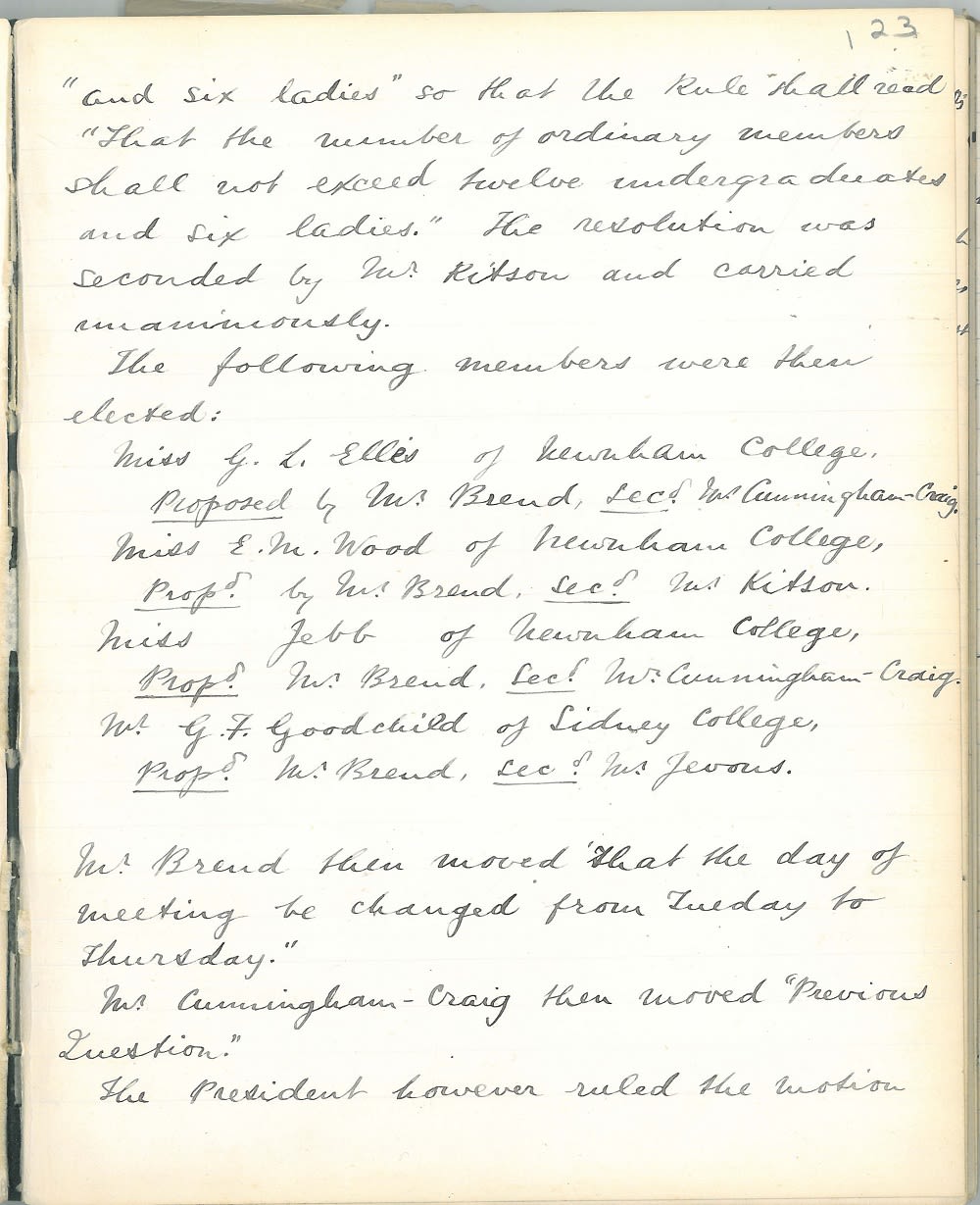 ---
'Mr Brend then said that the club existed with the object of promoting the study of geology and as there were now ladies working at the Woodwardian Museum who had shown good ability in the pursuit of that science he thought that the club would benefit by admitting them as members'.
---
After the change in the rules (which were agreed unanimously) female students were able to attend meetings and official club excursions, and give papers about their studies and research.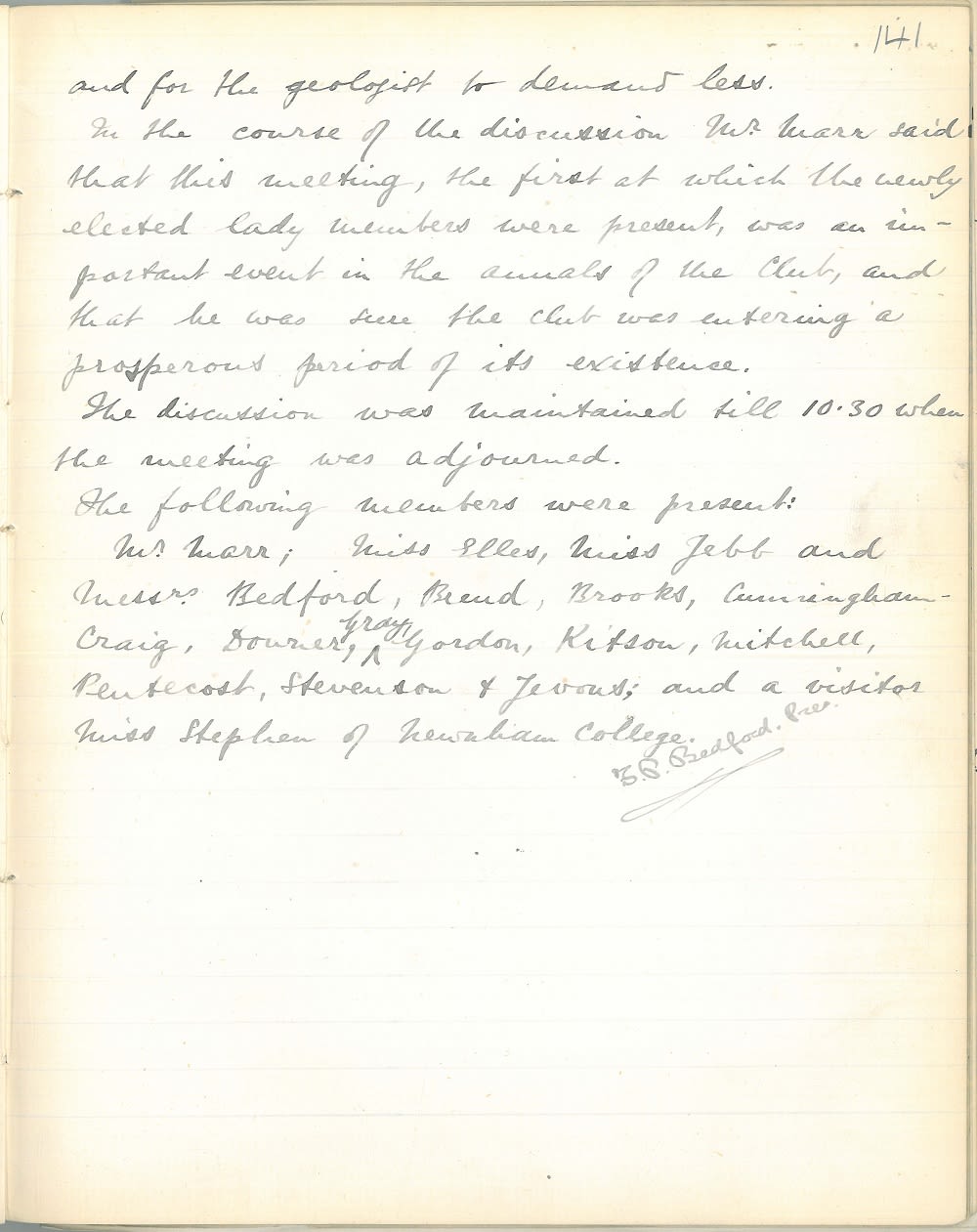 ---
'Mr Marr said that this meeting, the first at which the newly elected lady members were present, was an important event in the annals of the club, and that he was sure the club was entering a prosperous period of its existence'.
---
The first 6 female members elected to the Sedgwick Club were all students at Newnham College: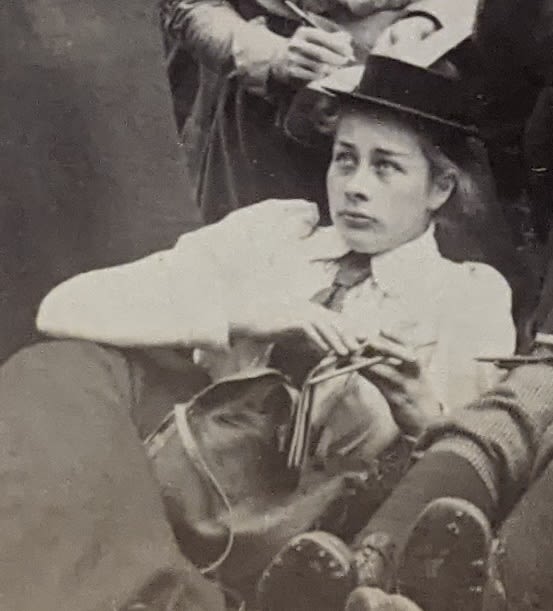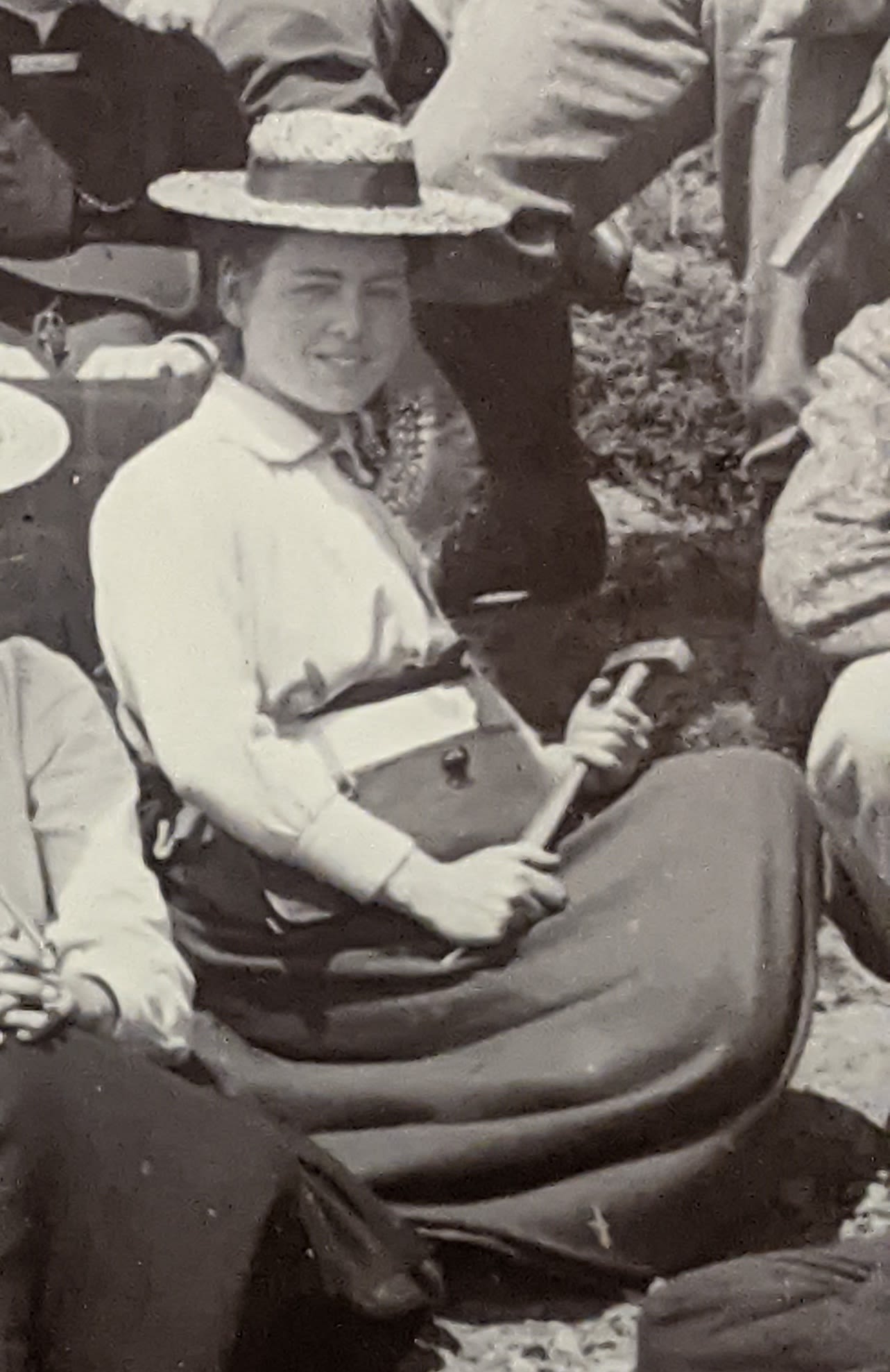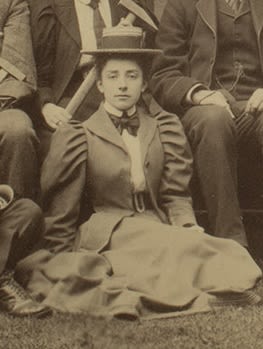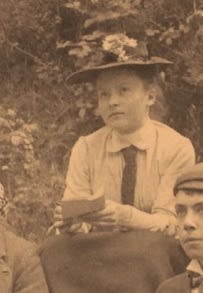 Some Sedgwick Club female members only attended two or three club meetings, whilst others were life-long members. Many went onto lead fascinating lives in their respective fields.
In this section you can learn more about some of the early female Sedgwick Club members.
You can also find out how many Sedgwick Club meetings they attended, positions they held, and whether they read any papers at Club meetings. You can also see if they deposited any objects with the Woodwardian Museum (Sedgwick Museum from 1904).
Pauline Minty Baguley (1877-1969)

Alice Barbara Dale [mn: White] (1891-1989)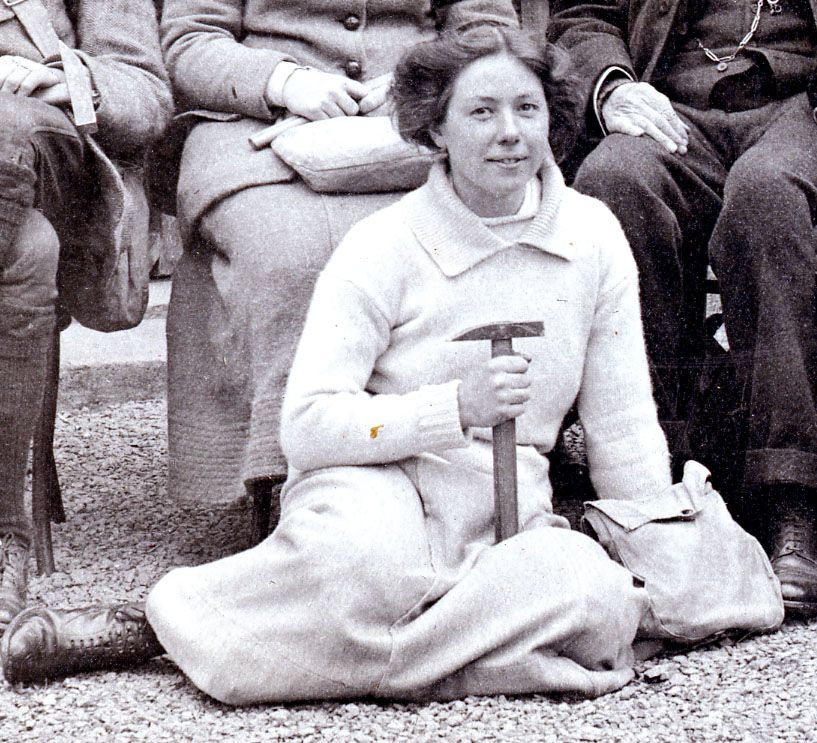 Helen Drew (1881-1927)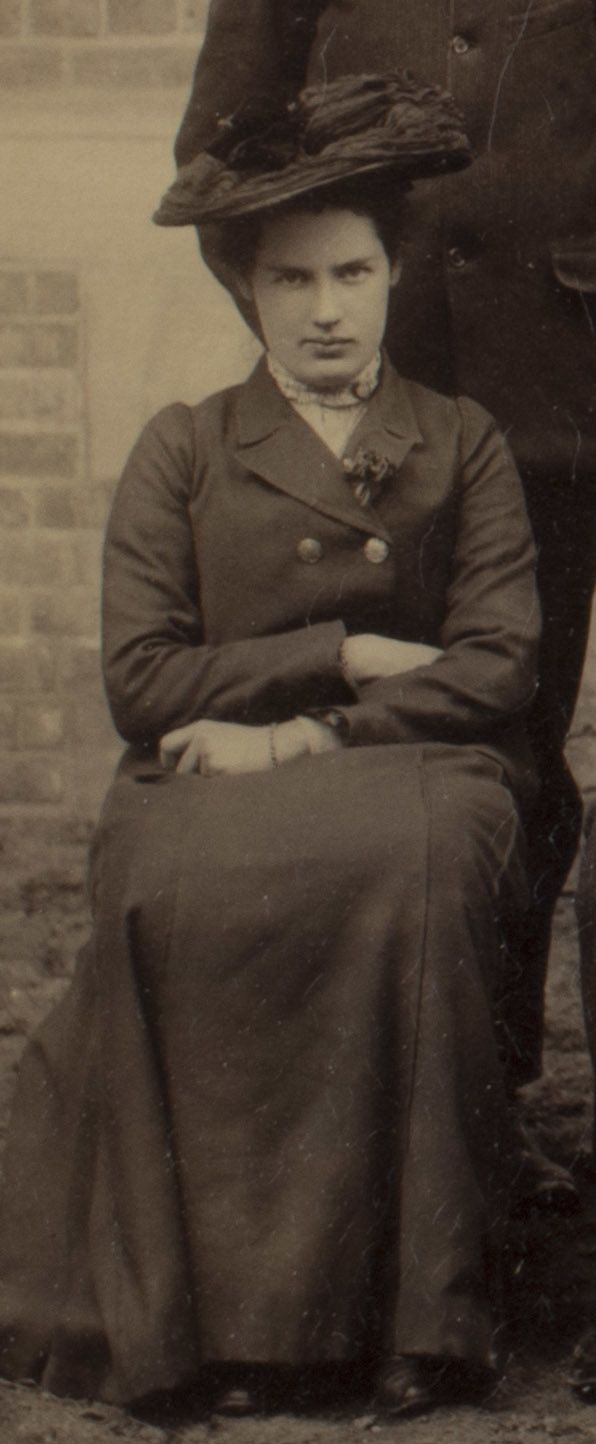 Kathleen Haddon [mn: Rishbeth] (1888-1961)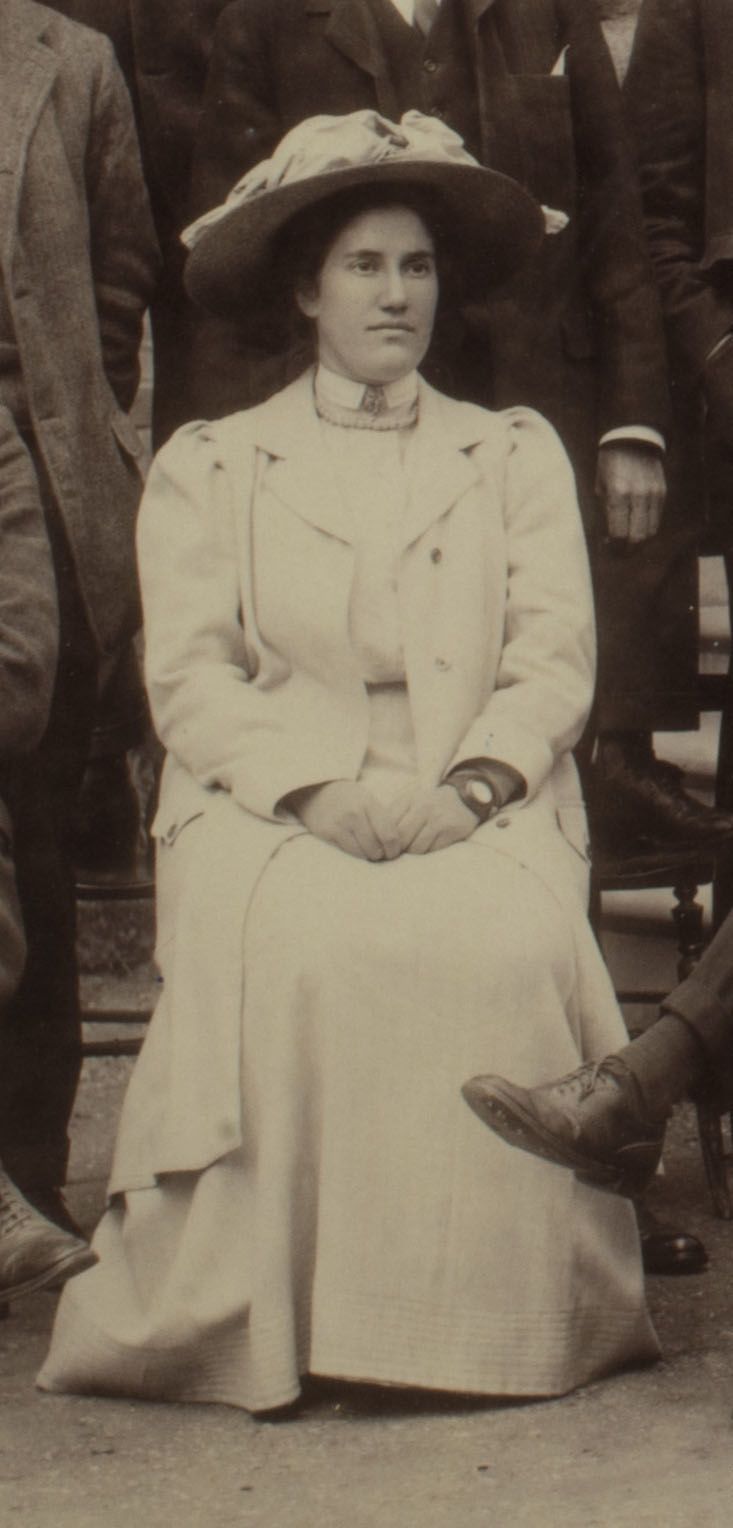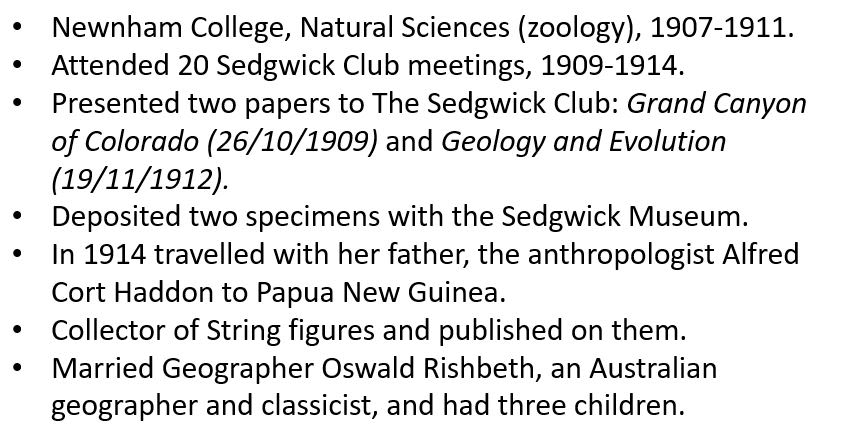 Margaret Helen Heath (mn: Taylor) (fl.1890-1936)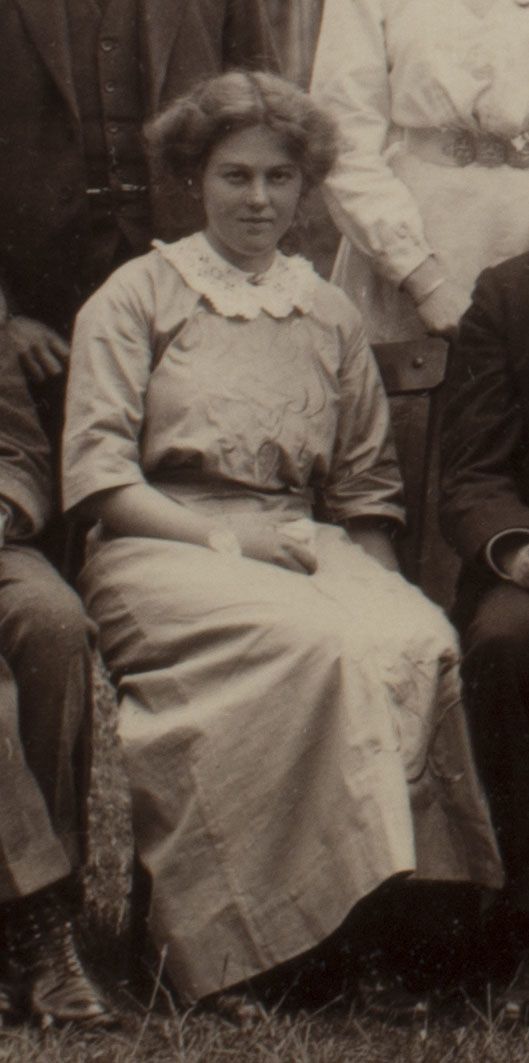 Louise Gabrielle Hugon (1876-1969)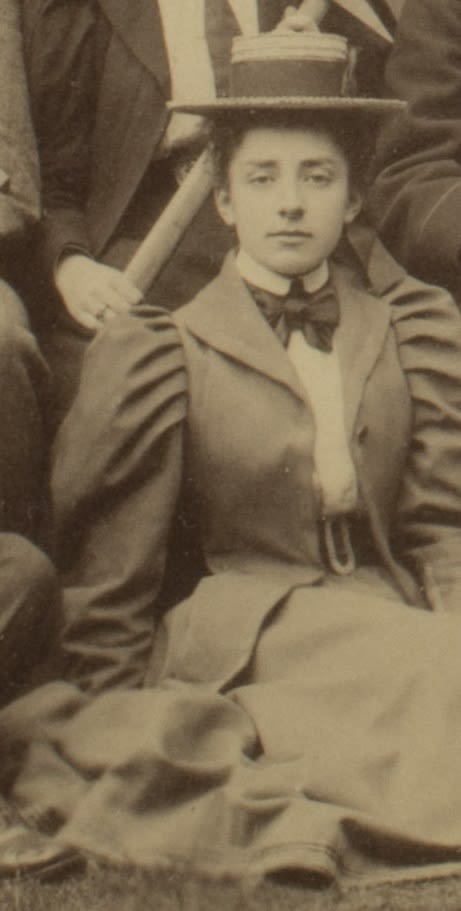 Louisa Jebb [mn: Wilkins] (1879-1929)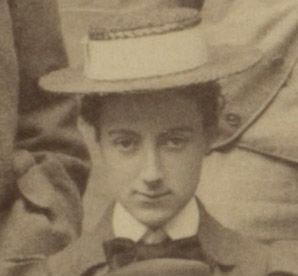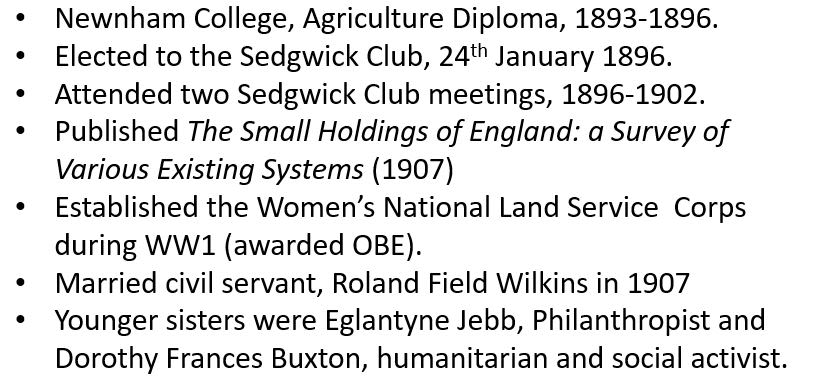 Phylis Kathleen Jewson [mn: Woodall]  (1885-1946)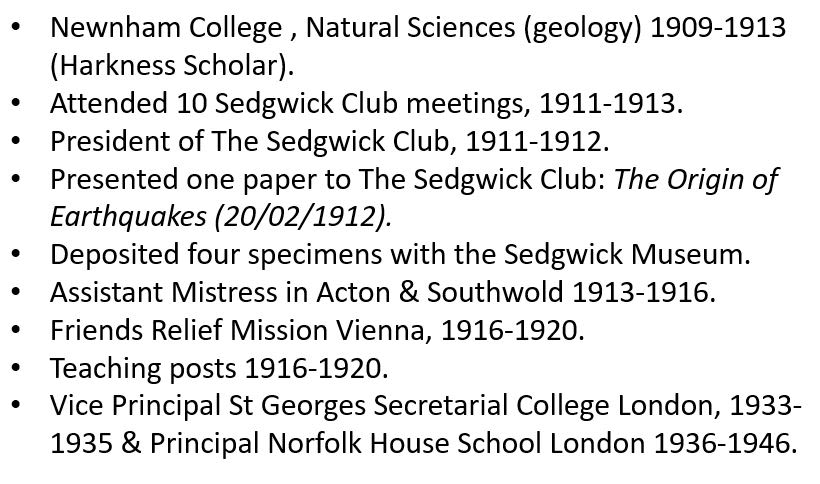 Margaret Flowerdew MacPhee [mn: Romanes] (1886-1931)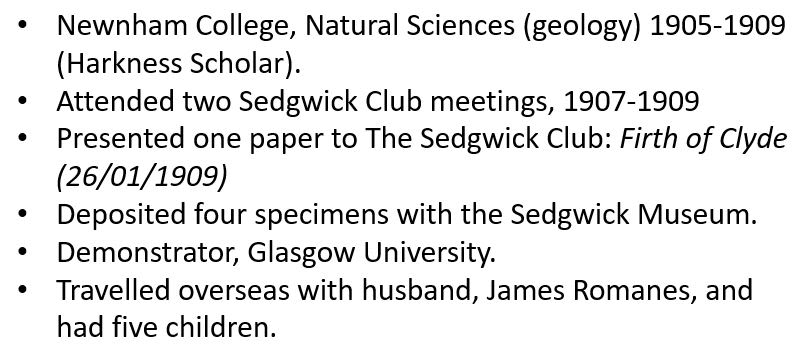 Elinor Gladys Phillipps (1872-1965)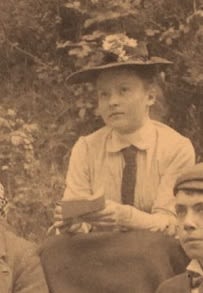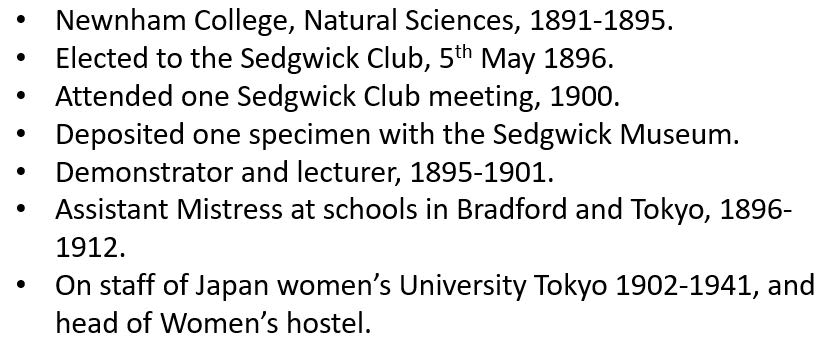 Agnes Robertson [mn: Arber] (1868-1936)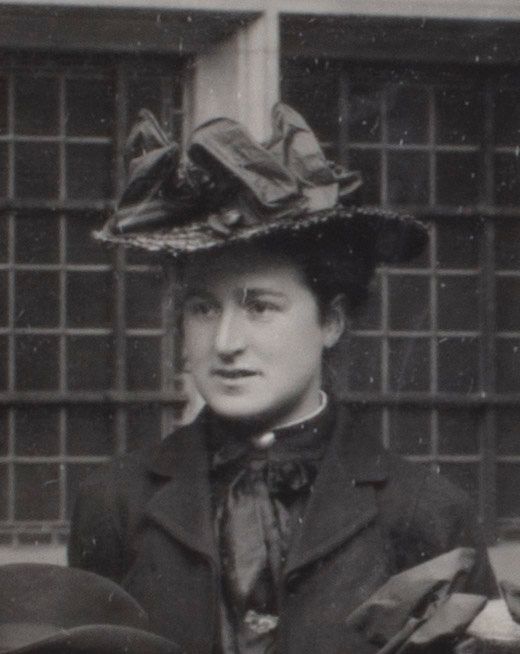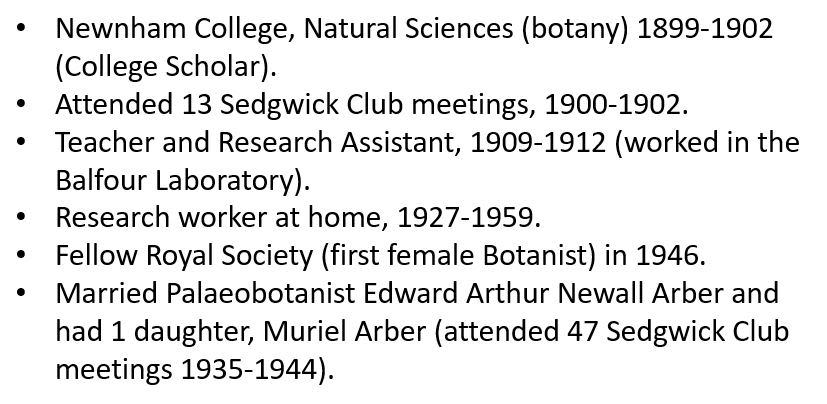 Frances Katherine Rolland  [mn: Grove-White] (fl. 1890-1914)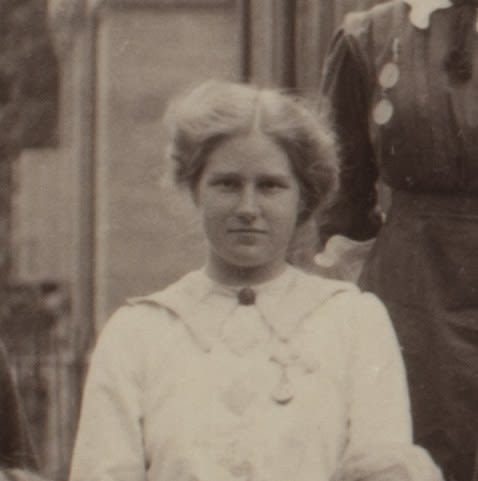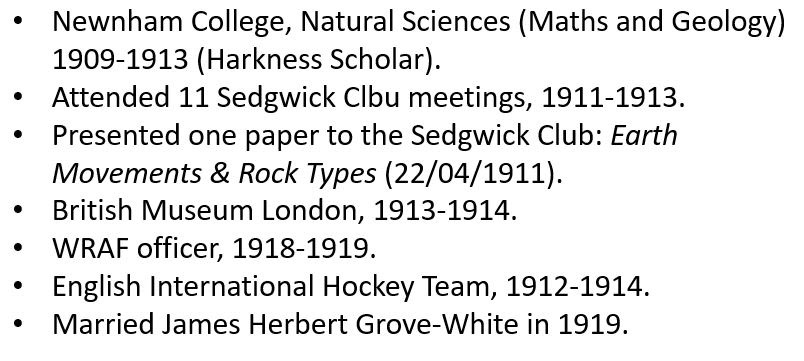 Ida Slater [mn: Lees] (1881-1969)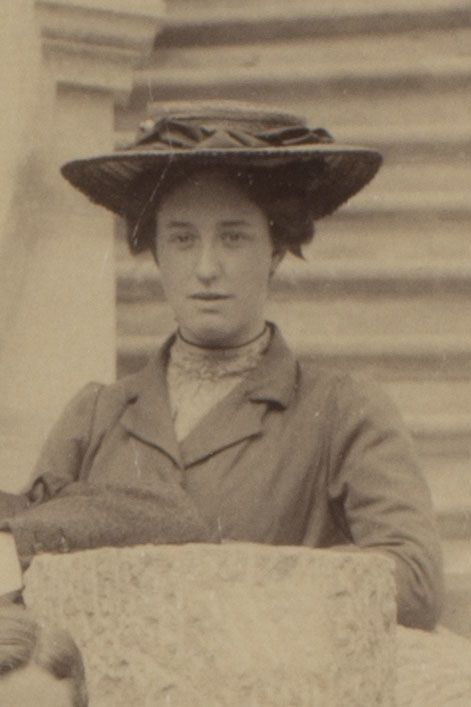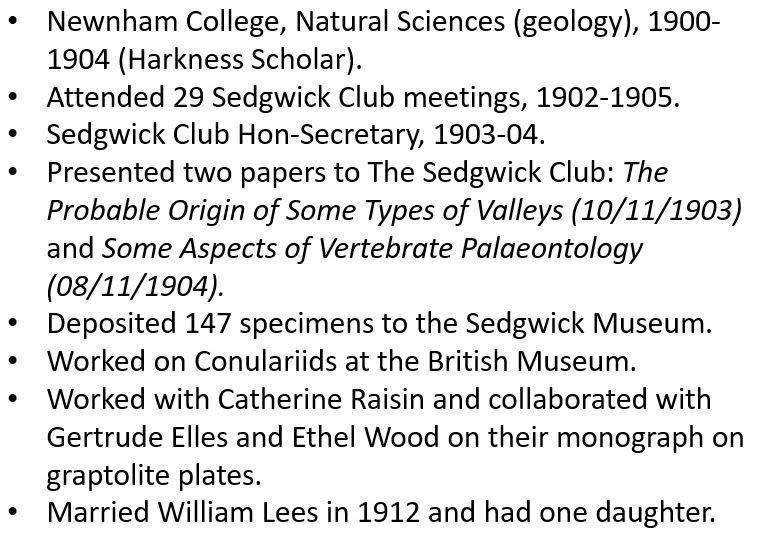 Alice Buxton Taylor [mn: Winnicott] (1891-1969)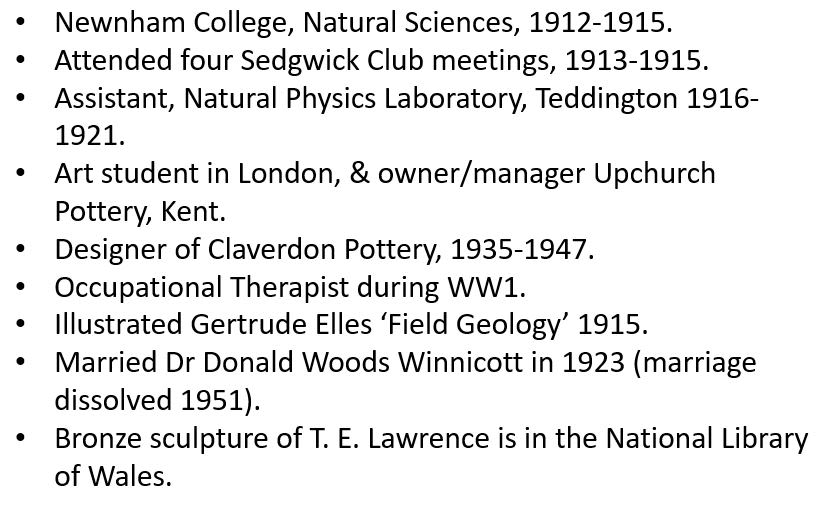 Helen Vinogradsky [mn: Bycharsky] (1890-1957)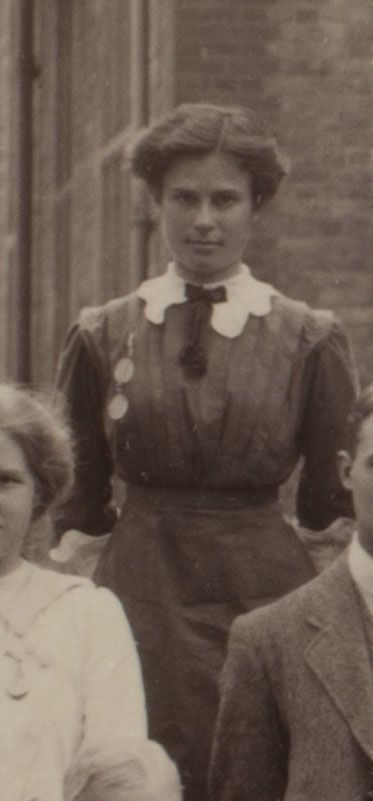 Gwendoline Rose Watney [mn: Barclay] (fl.1885-1915)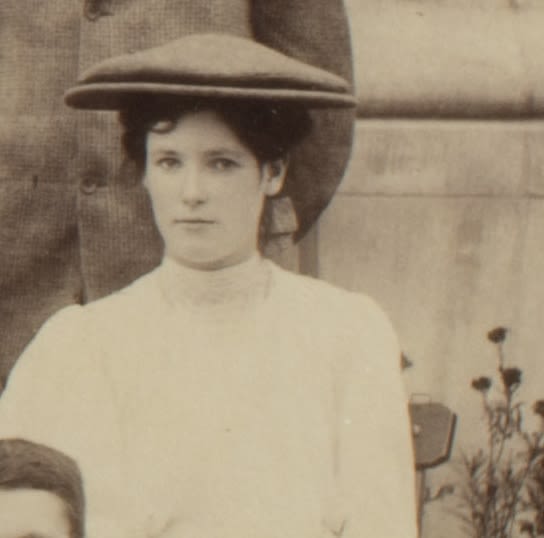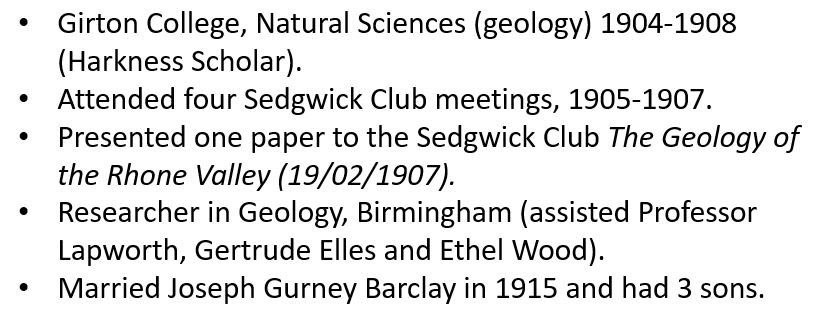 Eleanor Gill Welch  [mn: Lee] (1884-1963)


Spotlight: Elizabeth Dale (1868-1936)
Elizabeth Dale was born in Warrington in 1868 to John Gallemore Dale (a manufacturing chemist) and Clara Heys.
Elizabeth was a 'Pfeiffer' student at Hitchin College (later Girton College) from 1887. This was a non-resident research student, for which she was paid £40 per annum. In her case it was renewed twice.
In 1900 she published 'The Scenery and Geology of the Peak of Derbyshire'.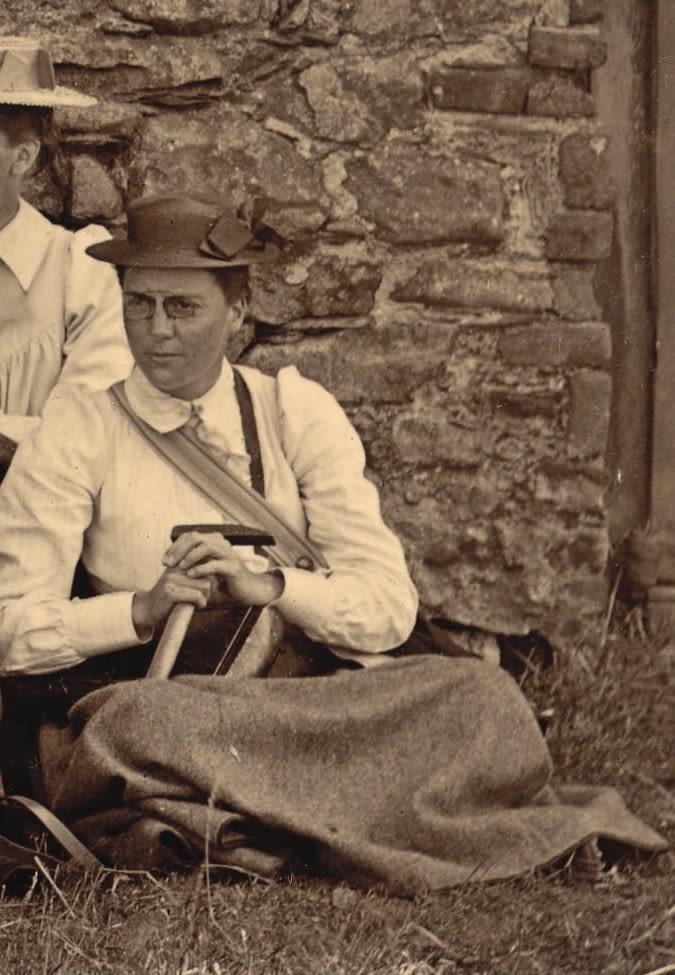 Elizabeth was a Botany Assistant in the Balfour Laboratory, 1898-1914.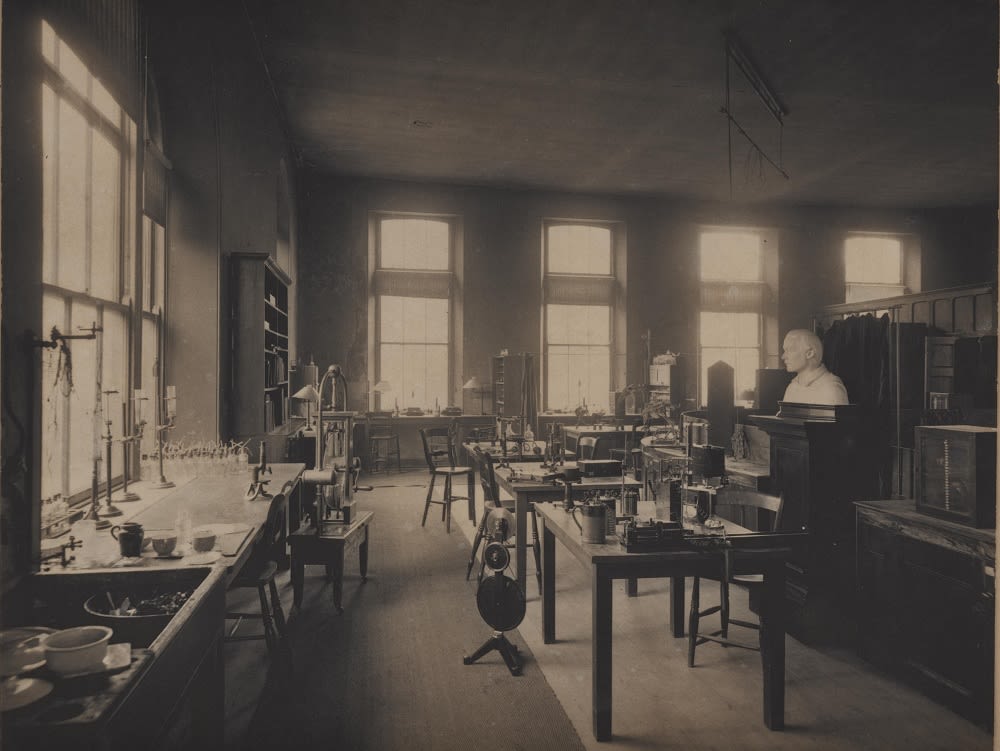 The Balfour, named after Francis Balfour, Eleanor Sidgwick's brother, was an abandoned chapel in Downing Place. It played a crucial role in ensuring women had access to resources and teaching space for practical experiments.
---
Elizabeth became a Sedgwick Club member in 1897 and attended six meetings between 1897-1903.
She presented two papers: 'The Glacial Geology of the Neighbourhood of Buxton' (10th January 1898) and 'On Recent Fossil Species of Sequoia' (30th October 1900).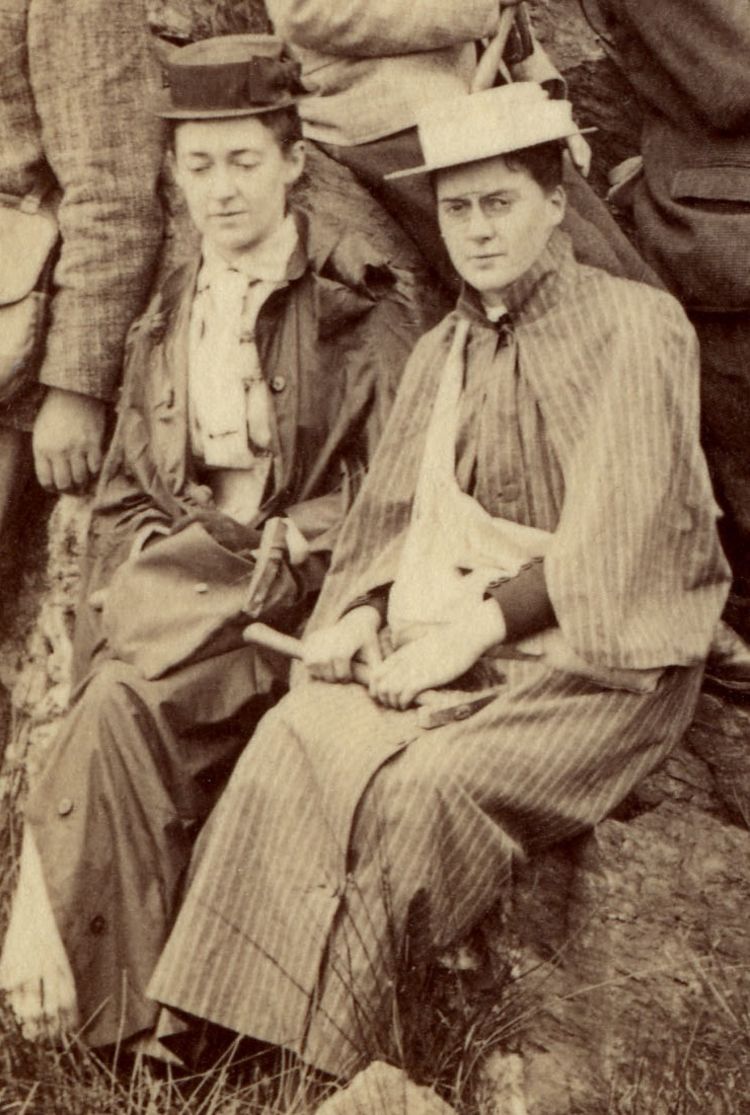 ---
A letter in the Archive confirms that Elizabeth and her sister Clara were present at the 1893 British Association meeting in Nottingham. Women had been attending BA meetings since the 1830s, and the first female full-member was elected in 1853. Dale was elected in 1889 and was a 'life member'.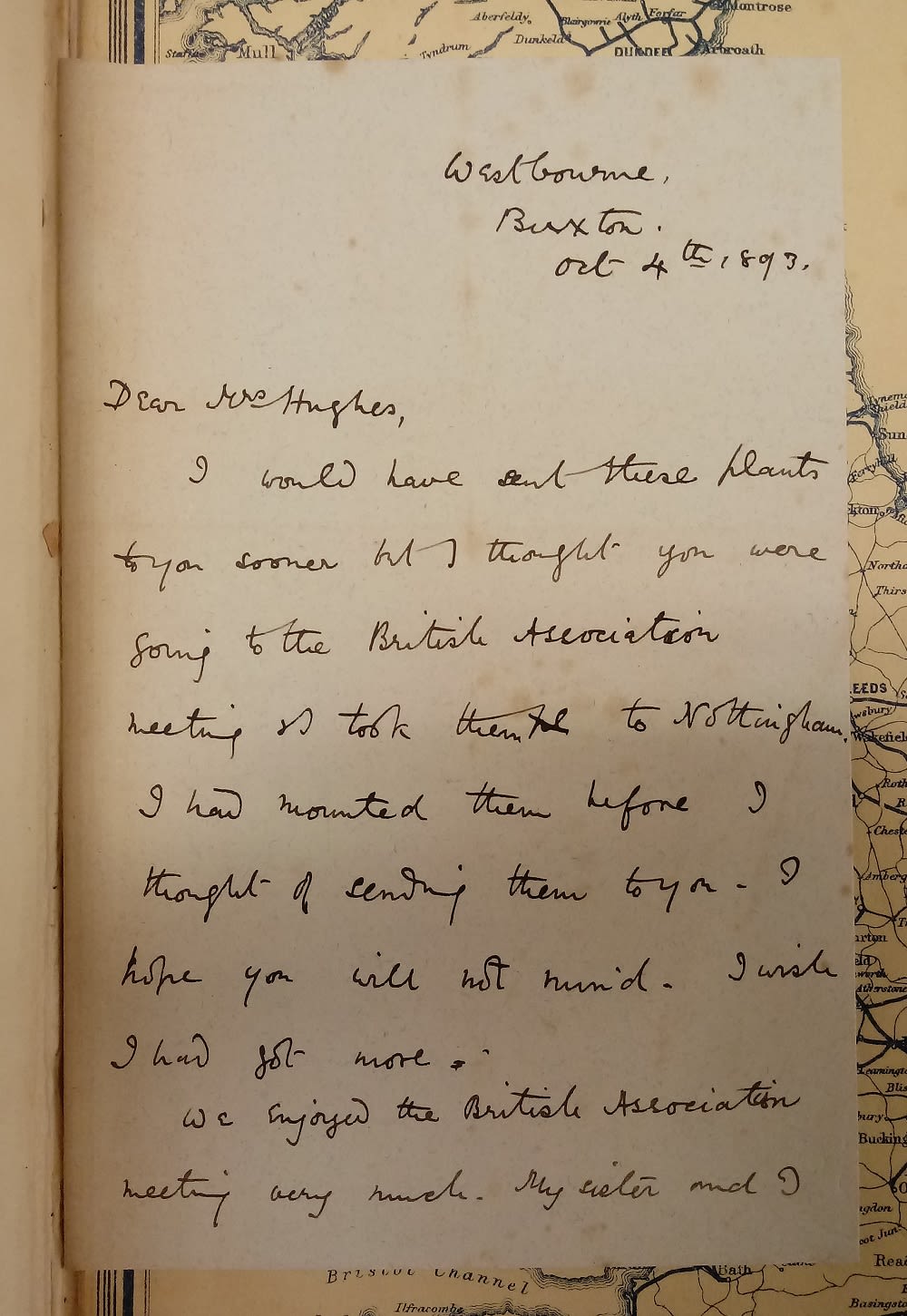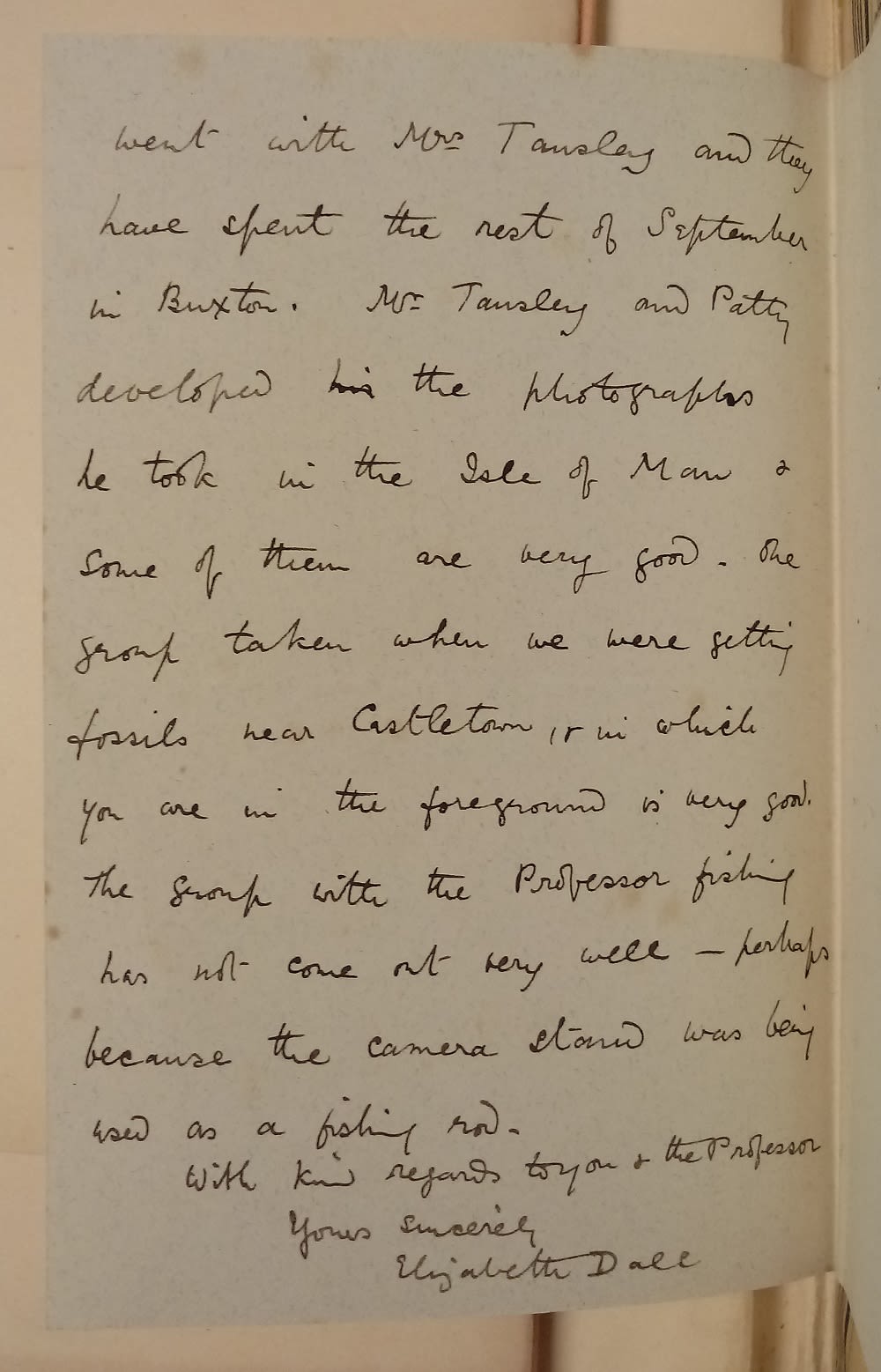 ---
Spotlight: Gertrude Lilian Elles (1872-1960)
---
'She could never have become a cloistered scholar' Alice White née Dale, 1961
---
Gertrude Lilian Elles was born in Wimbledon to Jamison Elles (a merchant in Chinese goods) and Mary Chesney Elles.
She rose from being an undergraduate and assistant demonstrator, to become a university lecturer in the Department of Geology in 1926. Ten years later, she became the first female reader.
After graduating in 1895, Elles did a year's research in Lund, Sweden, with Sven Tornquist before returning to Cambridge. Together with her Newnham contemporary Ethel Wood, she studied Lower Palaeozoic strata in Wales, specialising in fossil graptolites, extinct marine animals.

In collaboration with Charles Lapworth (1842-1920), Gertrude Elles and Ethel Wood produced a pioneering Monograph on British Graptolites (1901-1918). It described and illustrated all the then known graptolites and their biozonal distribution in time.
She prepared the text and Wood the illustrations with Lapworth acting as editor. In later life she also worked on metamorphic rocks in the Highlands with Cecil Edgar Tilley.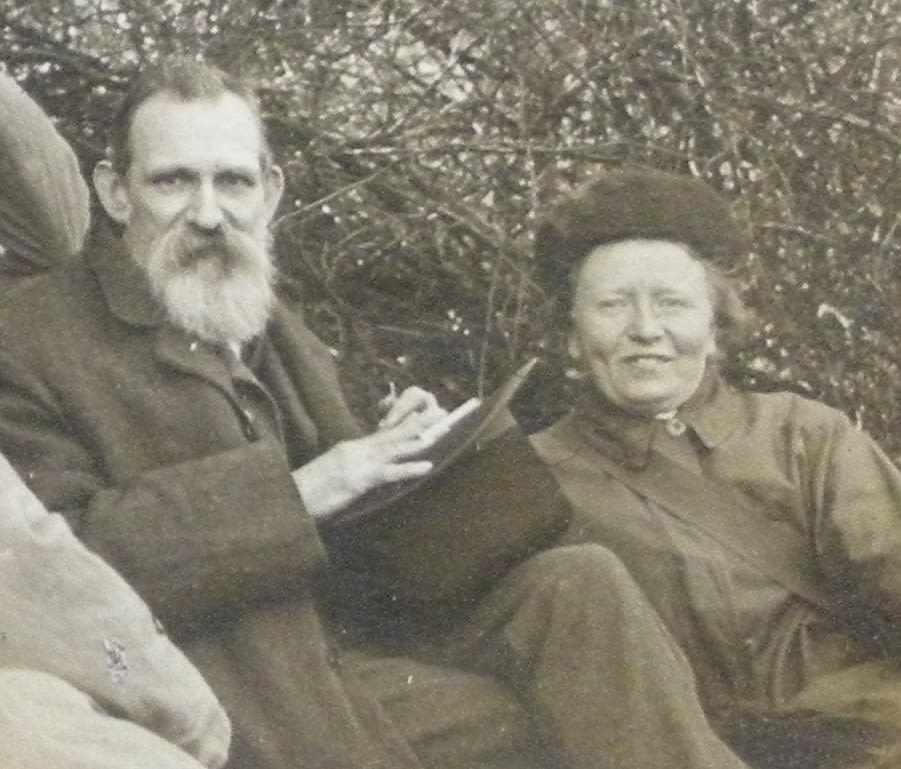 ---
'A woman geologist was a rare phenomenon in those days, but Gertrude worked easily with men and she was accepted on her merits' Alice White née Dale, 1961
---
Gertrude Elles features in many Sedgwick Club records, from student participant in 1896, to expedition leader in 1921.
Her first paper to the Sedgwick Club was entitled 'Structure of Graptolites'. She gave this on 3rd March 1896, less than two months after 'lady members' were admitted.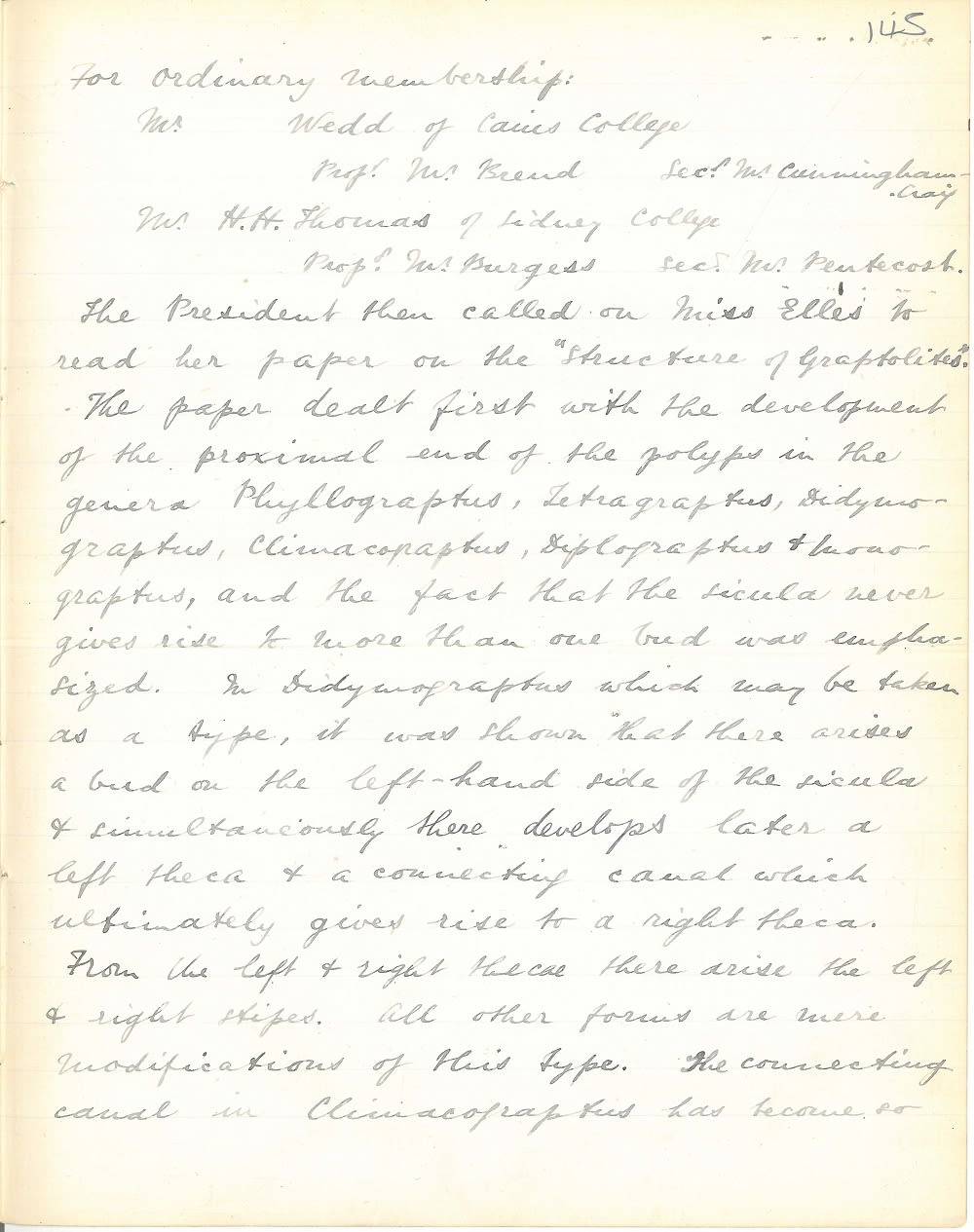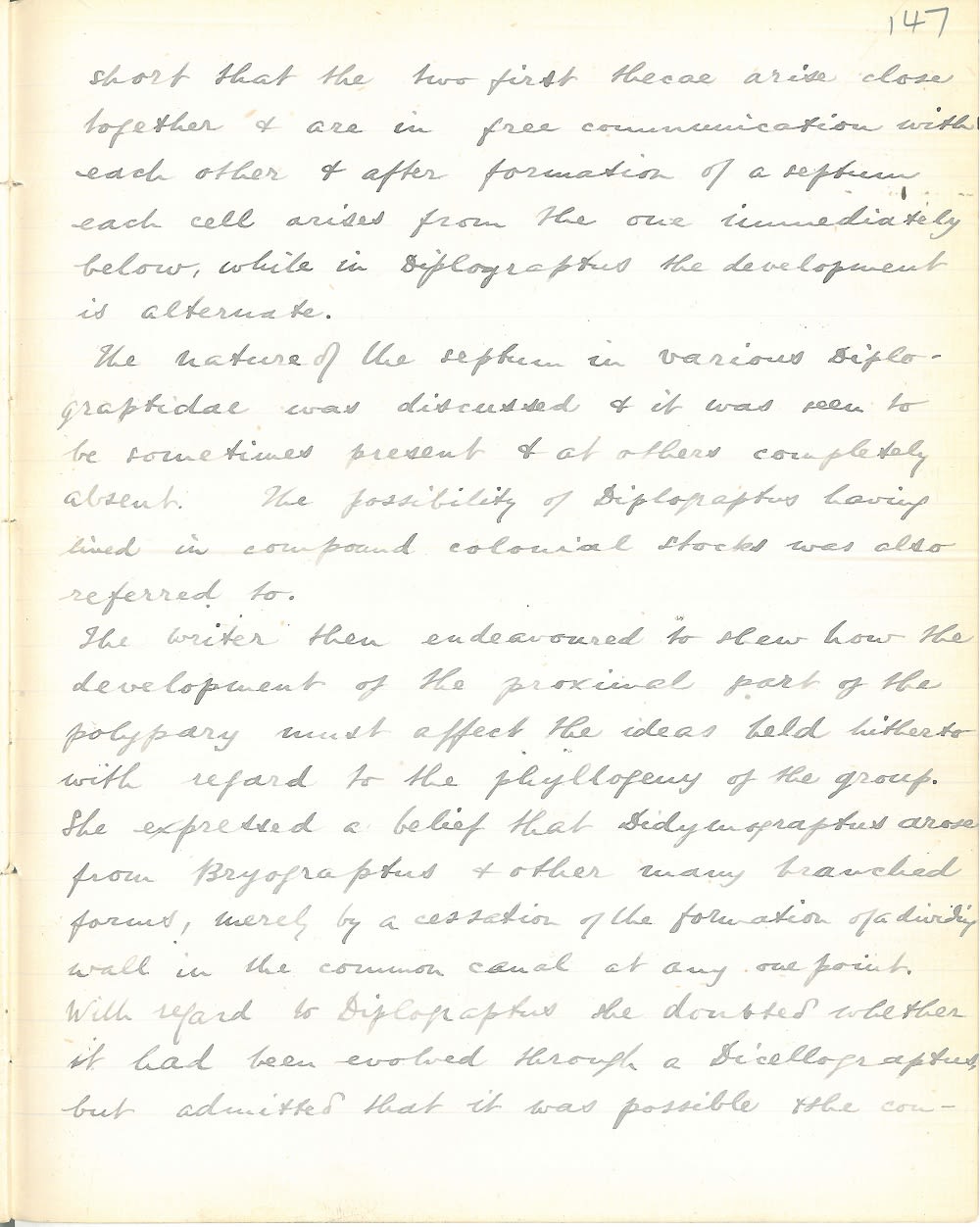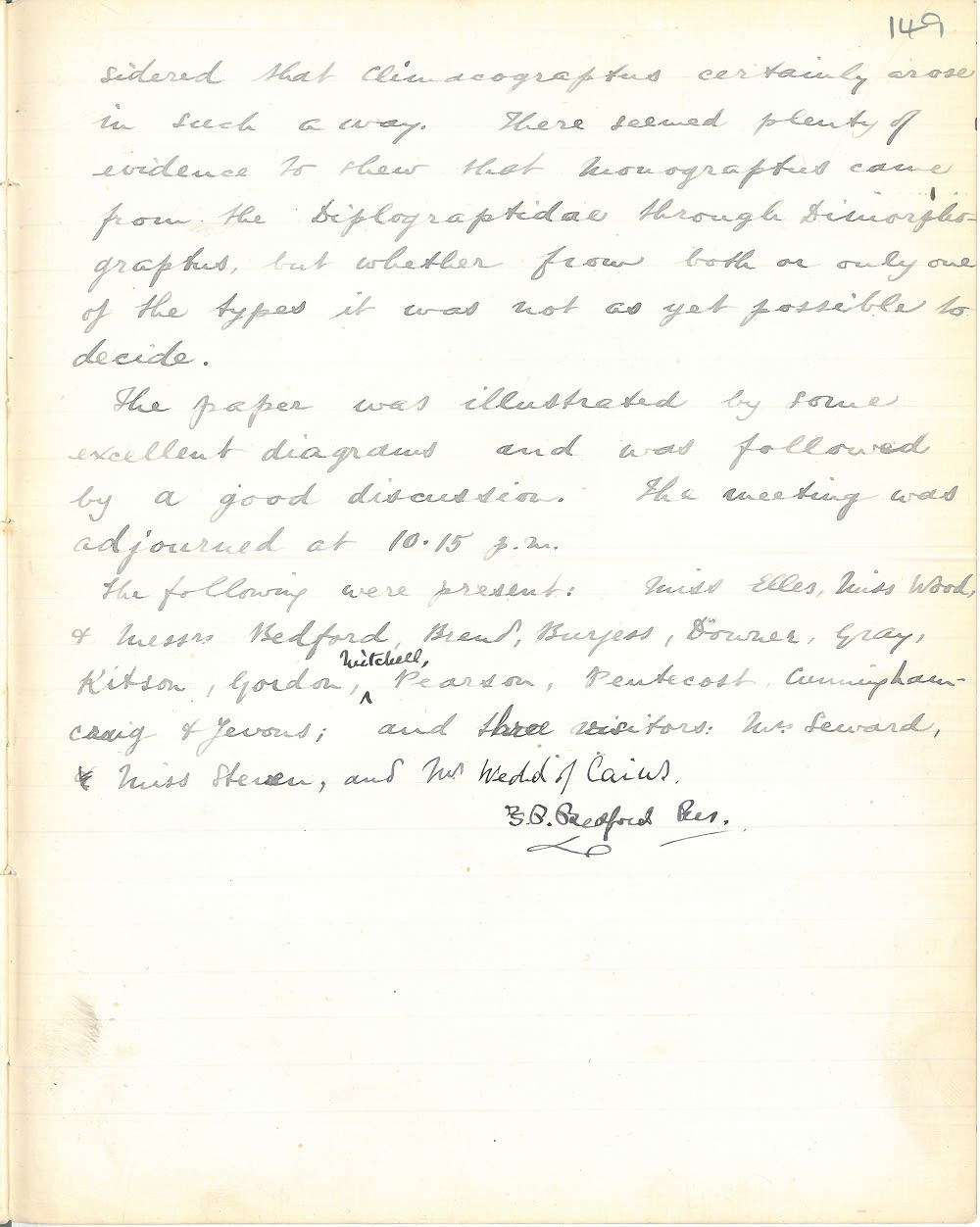 Gertrude Elles presented an impressive 19 papers over 55 years covering a range of topics and localities- from the Highlands and islands of Scotland to the Great Rift Valley in Africa.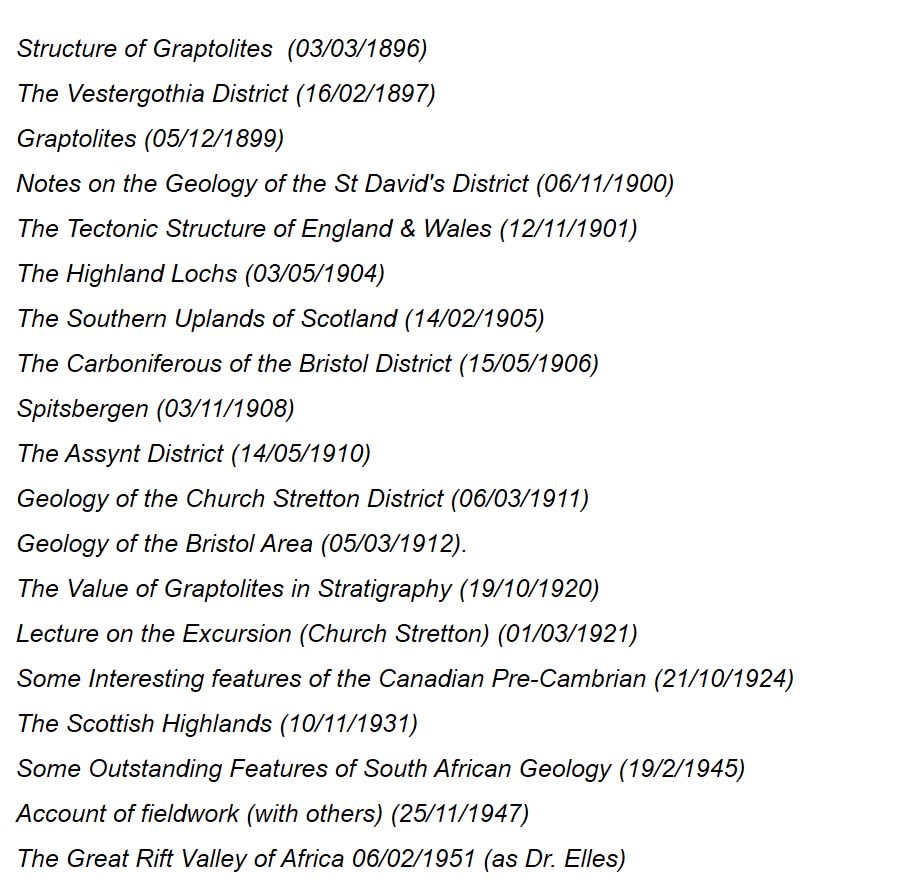 ---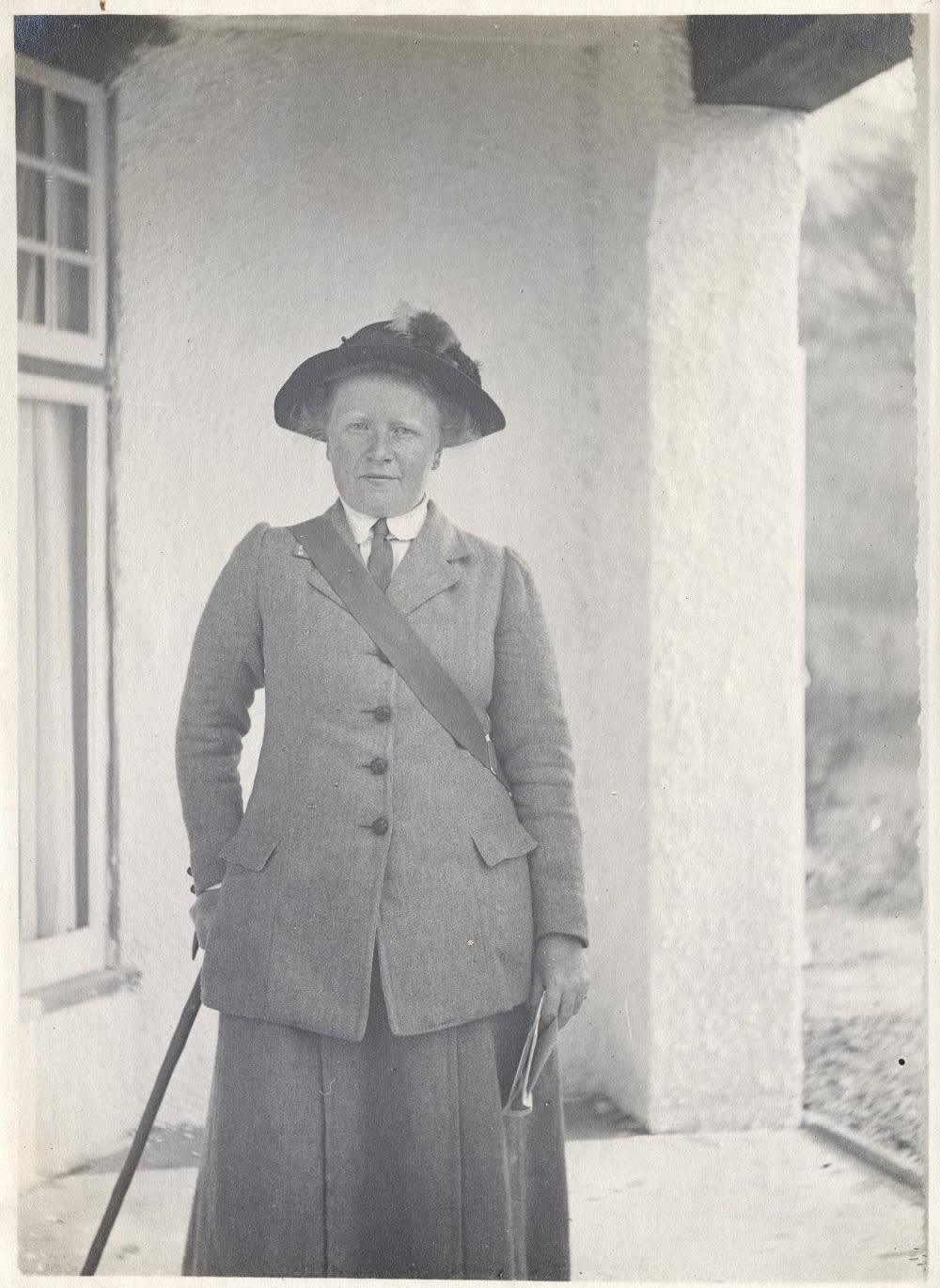 ---
Miss Elles sat upon a heap ....And knowledge round dispenses..... 3 brought her smudges on a slate.... She said 'riccartonensis' Verse of a Limerick in the account of excursion to Dolywern Excursion (ref. 02/02/16)
---
The Sedgwick Museum is fortunate to have a large collection of geological hammers, two of which belonged to Gertrude Lillian Elles.
Elles's fossil collections, many unearthed with the use of these hammers, total over 3,700 specimens, mostly graptolites.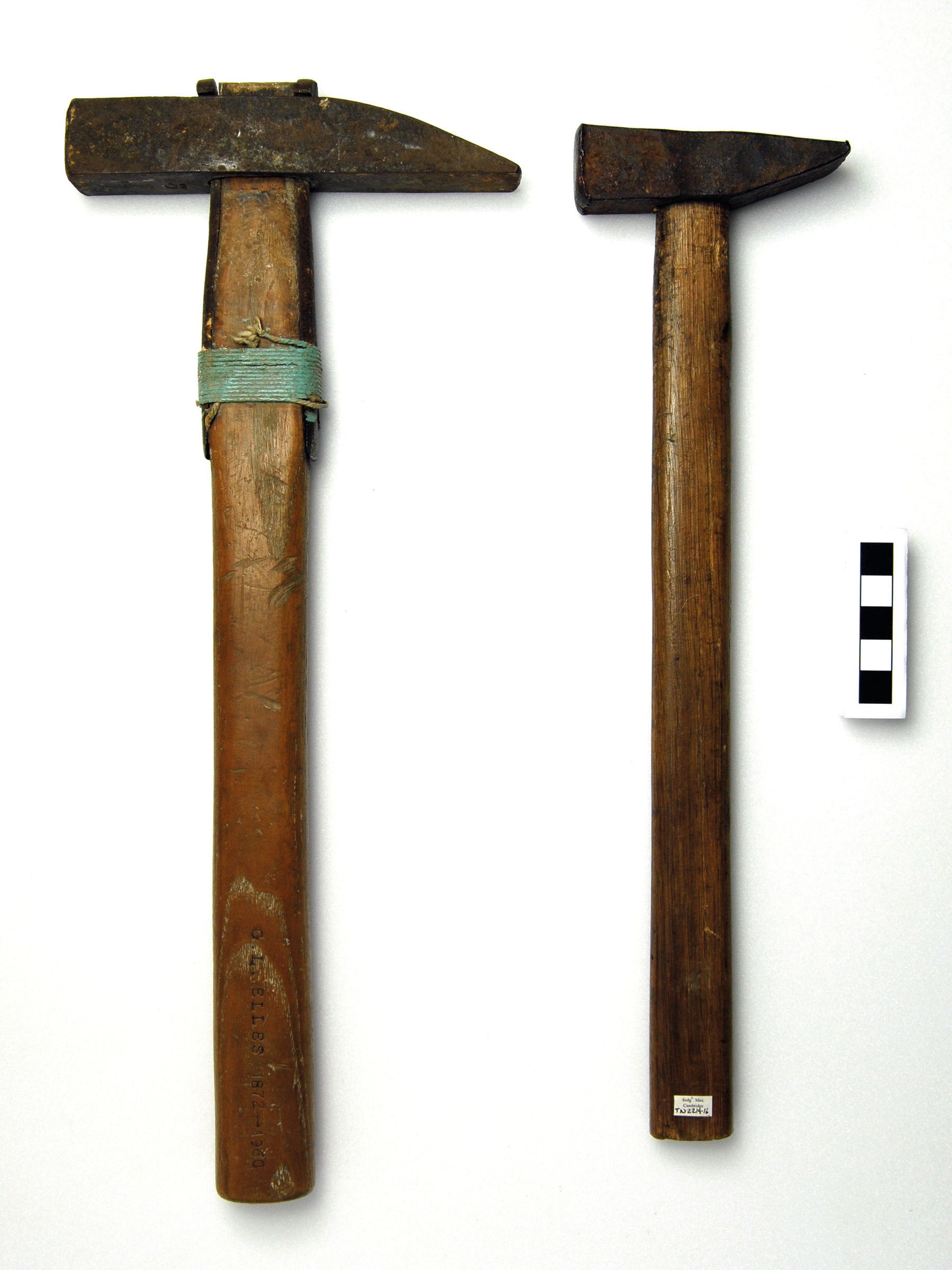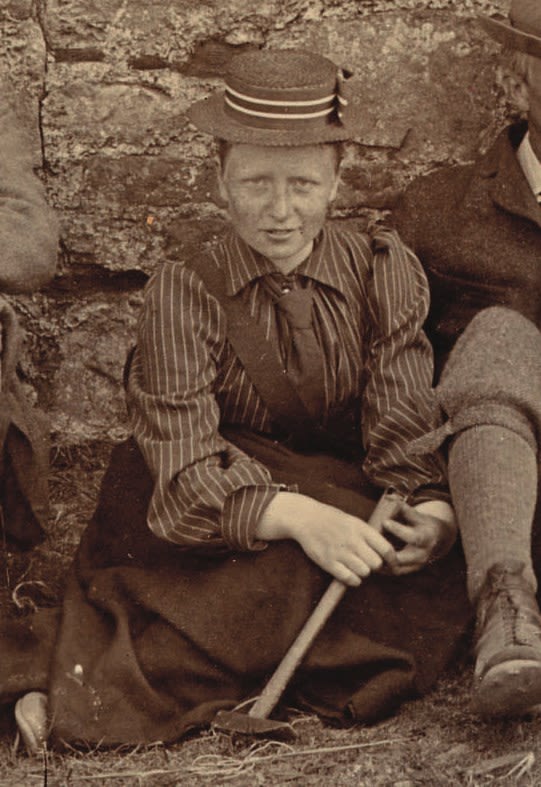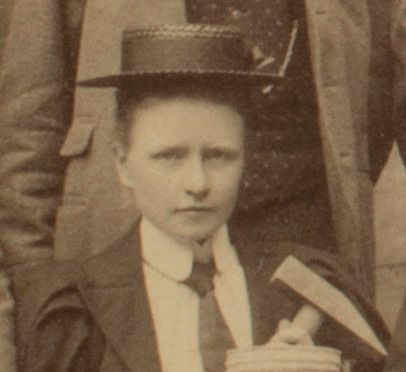 The geological hammer was often described in Sedgwick Club excursion notes as 'indispensable' for field work. However, it was also a recognisable feature of an emerging profession. It was a badge of honour.
---
Gertie, as she was affectionately known, spent a great deal of time working in the Woodwardian (and later Sedgwick) Museum, writing catalogues and captions.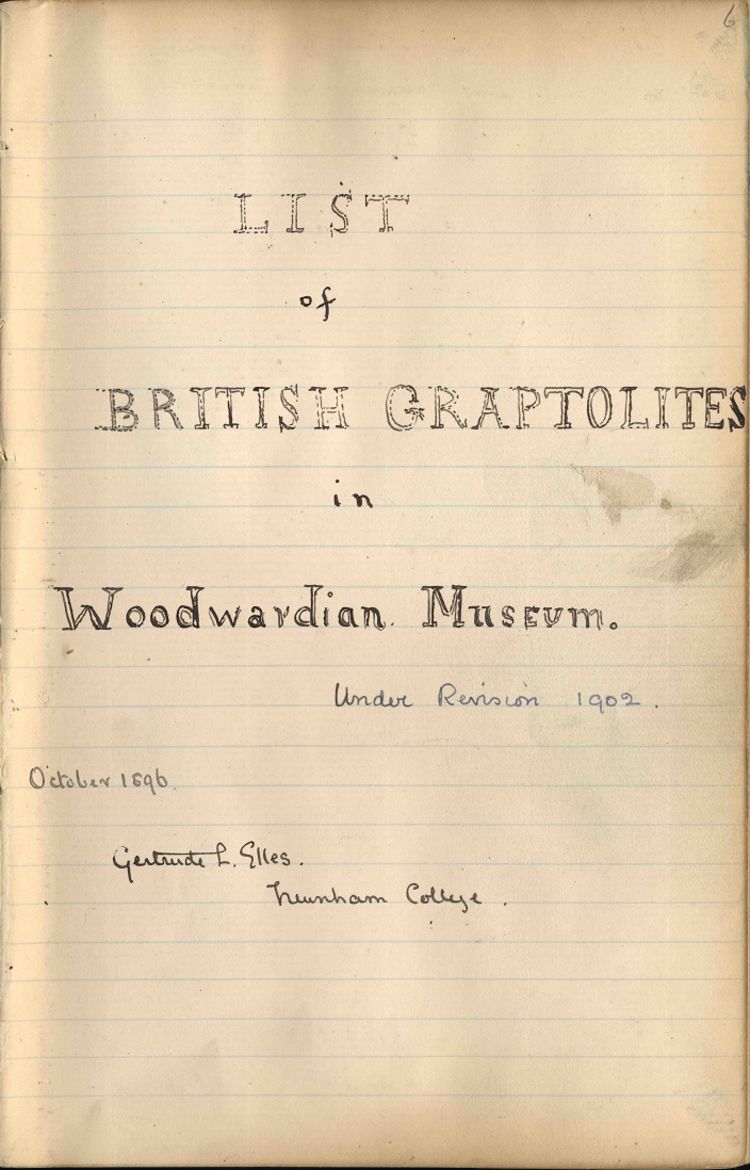 At Newnham College Archives there are testimonials from Professor McKenny Hughes, Professor Lapworth and Dr Marr. These were sent in support of Gertrude Elles election to the Newnham Fellowship of Research Students.
---
'What she is doing in this Museum would not interfere with that work, but rather greatly aid it, and I would urge in the interests of science than any restrictions should be carefully worded so as to not prevent her keeping in touch with the many sides of such an investigation..' Thomas McKenny Hughes, 25th July 1900. Newnham College Archives, AC/3/3/5.
---
Gertrude Elles also worked for the Red Cross during the First World War as a Commandant at a hospital in Newnham Walk. You can see her service card here.
She was awarded an MBE in 1920.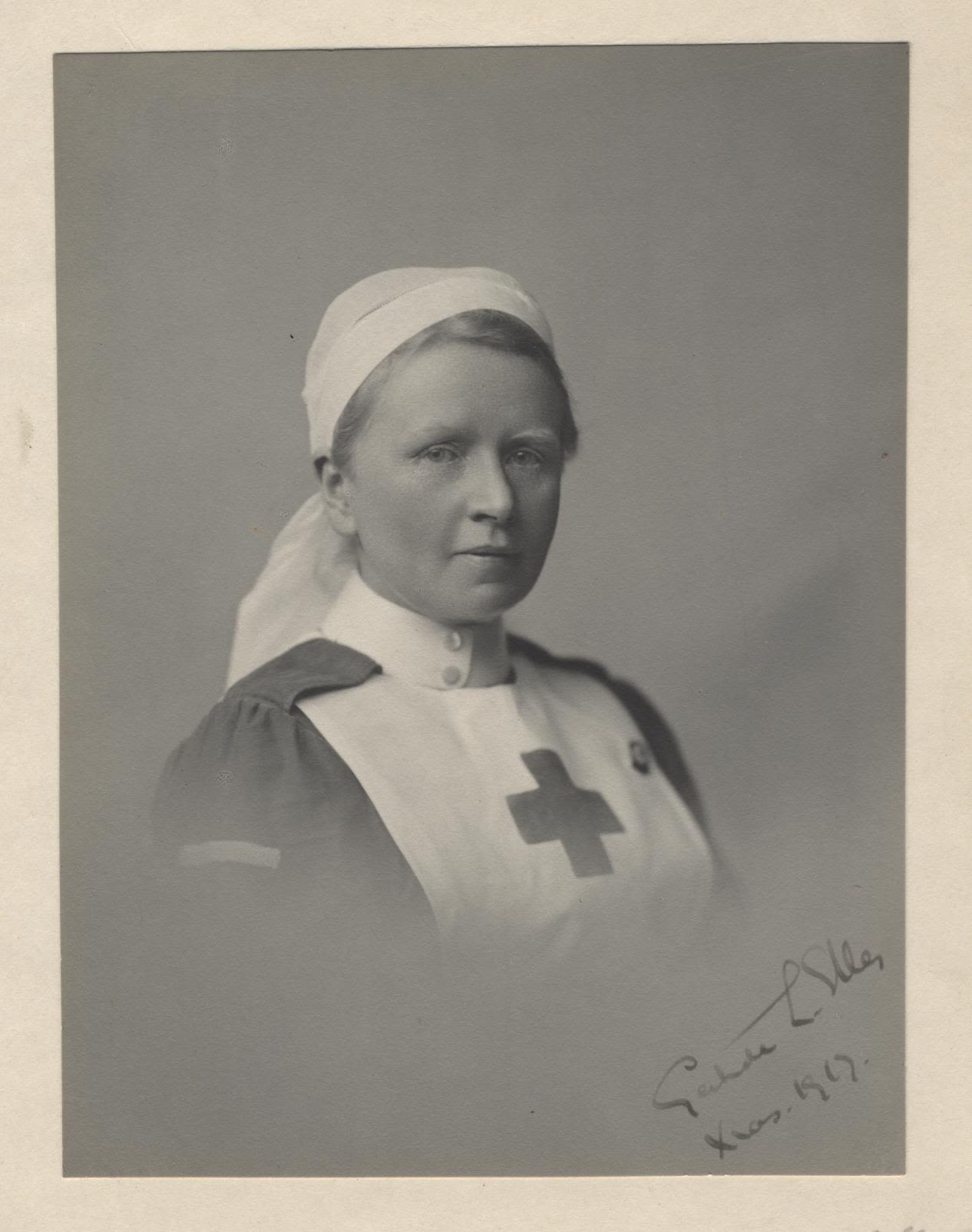 ---
Elles became vice principal of Newnham College, from 1925 to 1936. She died in November 1960 in Helensburgh, Scotland.
---
'The doyen of women geologists' Oliver Bulman, former research student and 12th Woodwardian Professor, 1955-1966.
---
Tours
The stories that are being uncovered are inspiring us to think about our collections in different ways.
In December 2019 the Sedgwick Museum held its first ever festival of feminism. A series of interdisciplinary art and science workshops were run by geologist and landscape artist Emma Theresa Jude. These events highlighted the lesser-known stories of trailblazing women of geology and palaeontology.
The Museum envisages feminist tours becoming a regular feature of the events programme. These will involve looking at objects and photographs on display in the museum, through a feminist lens.
---
Further information
British Association for Advancement of Science History
Sedgwick Club History
Geological Society History
University Library The Rising Tide: Women at Cambridge
---
Bibliography
Cynthia Burek and Betty Higgs 'The role of women in the history and development of geology: An introduction' (Geological Society, London, Special Publications, volume 281, 2007)
Cynthia Burek 'Archibald Geikie: his influence on and support for the roles of female geologists' (Geological Society London Special Publications, Special Publication volume 480, 2018)
Mary R. S. Creese, Thomas M. Creese 'British Women Who Contributed to Research in the Geological Sciences in the Nineteenth Century' in The British Journal for the History of Science (Cambridge University Press, vol. 27, No. 1. Mar., 1994), p.23-54.
Mary R.S Creese, 'Ladies in the Laboratory? American and British Women in Science, 1800-1900' (Scarecrow Press, 1998)
Felicity Hunt and Carol Barker 'Women in Cambridge: A brief history' (Cambridge University Press, 1998)
Jane Robinson 'Bluestockings: The Remarkable Story of the First Women to Fight for an Education' (Penguin, 2009)
'Tools of the Trade: The Sedgwick Museum's Historical Collection of Geological Hammers' (University of Cambridge Museums and Botanic Gardens, 2016) available in the Sedgwick Museum shop.
---
Acknowledgements
We are very grateful to Museum Archive volunteer Cherry Booth, whose work on listing the Sedgwick Club minute books has been invaluable.
Many thanks to Anne Thomson, Archivist at Newnham College for information about Newnham College students, and permission to use images.
Thanks to Professor Cynthia Burek for her ongoing support and enthusiasm for researching women in the Sedgwick Museum Archive.